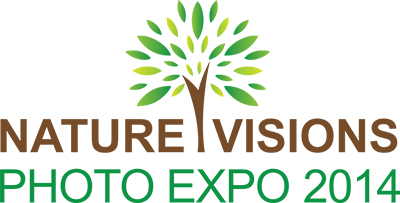 The annual Nature Visions Photo Expo is the best value in photography education and we're happy to support it!
Held at the Hylton Performing Arts Center in Manassas, Nature Visions features two full days of lectures by noted photographers, preceded by a full-day seminar on Friday by an internationally known photographer and teacher.  Novice and advanced photographers alike have the opportunity to learn from these experts.
They will have vendors and representatives from leading manufacturers who will be available to help with technical questions and showcase (and sell) the latest in photographic equipment and supplies.
Another popular activity offered is the chance to photograph hawks and owls. Thanks to the Raptor Conservancy of Virginia, photographers can focus their cameras on these magnificent wild birds in a natural setting just outside the Hylton Center.
The centerpieces of Nature Visions are two exhibits that showcase nature and fine art photography by members of the seven camera clubs that organize the event. Many attendees are simply dazzled by the beauty of the photographs on display.  Yet many of these photographers only picked up a camera for the first time a couple years ago, their growth was helped along by participation in their camera club.
It is the hope of the Expo that visitors are inspired by the creativity of the exhibiting photographers and are encouraged to improve their own skills as photographers. 

A Brief History
In 2002 six camera clubs in Northern Virginia saw the opportunity to promote the talents of their members, their individual clubs, and photography in general. When they started planning the first Expo, they found immediate support in the local photographic community, support which has grown each year.
In 2003, the Northern Virginia Photographic Society (NVPS), one of the participating camera clubs, was awarded 1st place in the Camera Club Category of the Nature's Best annual international photography contest. The winning NVPS images were displayed in the fall 2003 edition of Nature's Best Magazine.
Over the years, they have added a keynote presentation to the line-up and a "star" photographer/educator now gives a full-day seminar on the Friday of Expo weekend. This year the noted photographer and photography author Rick Sammon will step into those shoes, following the very popular Art Wolfe (2011), Seth Resnick (2012) and Bryan Peterson (2013).
Their mission statement is "To promote and advance the appreciation of photography in the Mid-Atlantic Region and elsewhere; to encourage the participation in photography by individuals with all levels of experience and all areas of photographic interest; and to increase the appreciation of photographic art within our community."

Admission is free to the Nature and Fine Art Exhibits, Vendors and Vendor Demonstrations but you must register online to attend. There are many presentations/lectures… some free and some for a fee so come enjoy the event.
Capital Photography Center instructors Tim Cooper, Karen Messick and Marie Joabar will be giving presentations, see their events listed below.
Tim Cooper:
Crafting Expressive Landscapes with Adobe Lightroom

Order from Chaos - The Adobe Lightroom Library Module
Karen Messick:
Advanced iPhone Photography
Creating a Sense of Place in your Travel Images
Marie Joabar:
iPhone Photography - Get Inspired! 
Your Photography Road Map
Also don't miss the opportunity to hear Julieanne Kost, Rick Sammon and Ian Plant.
Details and schedules can be found at http://naturevisions.org/. 
Hope to see you there.