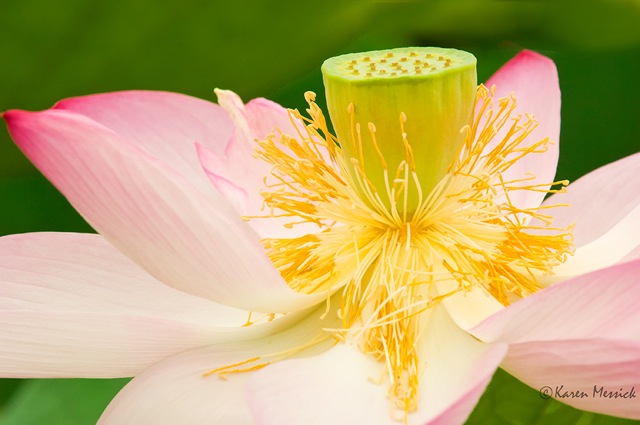 Gardens and nature lovers delight. Spend the morning photographing dew laden lotus blossoms, colorful water lilies and other aquatic flowers.
Join Karen Messick for a photo shoot at Kenilworth Aquatic Gardens and capture stunning shots and learn how to use available light effectively in flower and nature photography.
All levels of expertise are welcome. There will be plenty of one-on-one to get the most from your time in the flower fields. We will work on making creative compositions and getting the best exposures.
The annual lotus blossoms are truly a unique photo opportunity. To help you capture the best possible image, the following is recommended:
Tripod
Telephoto/zoom lens in the 300mm range to capture distant lotus blossoms and dragon flies
Macro lens or a lens with macro capability to get close-ups of blooms
Polarizing filter
Reflector or a piece of aluminum foil to bounce light into flowers
Recommended Dress:
Suitable footwear…it's wet! A hat, long sleeve shirt, long pants and bug spray for insect protection.
For more information about the park visit, http://www.nps.gov/keaq/
Class Limit: 10

What People Are Saying:
"I appreciate Karen's ability to tailor the information for the specific class audience and to work easily with multiple experience levels. She's also just 'good people.' Five stars!"
Instructor: Karen L. Messick
As the past president of the Baltimore Camera Club and an award-winning photographer, Karen has been capturing images for the last 20 years. Her creative sense of design, color, composition and placement of subject elements is striking. The patterns in her nature close-ups are refreshing and energizing.
Karen leads photo workshops throughout the United States and also lectures on composition, design and photographic principles in the greater Washington D.C. and Baltimore area. She has written instructional articles and had portfolio pieces published in Nature Photographer Magazine and is currently a field contributor for Nature Photographer Magazine.
She is exceptional with her skills with the iPhone and has given lectures and taught classes on iPhone Imaging for many organizations throughout the area. Her iPhone images have been published in iPhoneLife Magazine and are for sale by Aurora Stock Photography.
Her work can be seen on display in various galleries in Seattle, Baltimore, and on the Eastern Shore. Visit Karen's website and enjoy her blog at www.KarenLMessickPhotography.com.
Karen teaches the following classes Capital Photography Center:
HDR Photography
iPhone Photography
Historic Fells Point
Scenic Annapolis Harbor
Macro at Baltimore Conservatory
And many more