As the days become shorter and winter looms ahead it can be challenging to find inspiration. However, changing weather can bring a boon of unexpected photographic opportunities.
Celebrate the Rain
Autumn is glorious with its color and along with appreciating nature's final blush I also become a weather chaser. Heavy rains left over from southern Tropical storms leave nearby streams and waterfalls filled with water, perfect for creating images with slow exposures to blur waters. Looking for local parks that have streams I take the time to pre-scout areas that might have babbling brooks and then keep an eye on the weather forecast.
Early mornings and late afternoons when the sun is low in the horizon, as well as overcast days offer the best lighting conditions for waterfall photography. With the low light, a circular polarizer should be all that is needed along with a steady tripod and sturdy rubber boots to step into the stream. Rotating the filter around to reduce the glare on the surrounding rocks and deepen the colors of the foliage, I use the 10-second timer and strive for a shutter speed around 1/15 of a second.
Embrace Fog
Along with filled waterways from heavy rains, fog is more prevalent. With warm days and cool nights, fog envelopes the landscape lending itself to mysterious and ethereal images. Reminiscent of days in Maine, when I see fog I run out with camera in tow. Knowing that the camera will underexpose my images due to the ambient light, I Expose to the Right (ETTR) by using Exposure Compensation with Aperture Priority or adjusting my shutter speed in Manual mode.
Ice is Nice
As winter draws near I look for those unexpected freeze warnings and look for frost and frozen subjects close to home. I look for little pools of frozen water and create some wonderful abstracts and convert them to black and white to make a more graphic image.
First Snow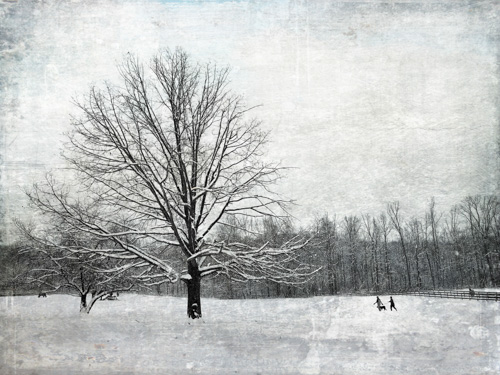 Nothing celebrates winter more than the first snowfall. Snow looks best just as snowfall is ending and like fog, the camera tends to underexpose images due to the bright white. Exposing to the right will help brighten the scene, but make sure the highlight alert is turned on the camera to ensure you capture full detail throughout the image.
Nature in the changing seasons is a wonderful time to get out and take advantage of the weather patterns. Sometimes all you need to do is go out into your backyard and capture something quickly that you can enjoy. Local county and state parks, as well as nature conservancies and wildlife refuges are great places for you to get out and enjoy the weather. Just remember your wellies!