Get inspired by what our instructors like most about spring shooting then dust off your camera and get shooting!
Marie Joabar
My favorite thing about spring shooting is that the days aren't too long yet making it easier to get out of bed for a sunrise shoot. Couple the early morning light with the fresh colors and new life that we find only in spring and it's a win-win. Make the most of this time because the newness fades quickly and before you know, it's summer. Whether it's people, wildlife, flowers, landscapes or cityscapes, nothing beats shooting on a beautiful spring day!

Corey Hilz
Spring is an amazing time of year for nature photography. I enjoy being outside and soaking in the vibrant colors of blooming plants and trees.I look to create impact with strong color combinations, and to take advantage of dramatic lighting to make my subjects stand out.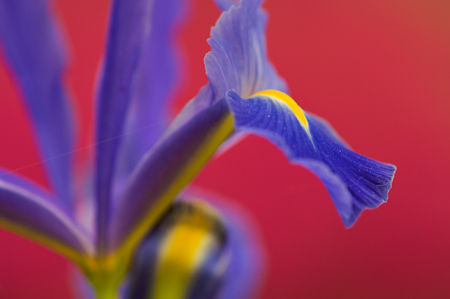 E. David Luria
I like spring because it is the time when you can kneel behind the tulips in Lafayette Park and use the tulip bulbs to hide ugly stuff in front of the White House, like all the people and the Ban the Bomb Lady. I took advantage of the GREAT depth of field offered on my Samsung Galaxy Note 5 smartphone for this image here!
Where else can you apply this HUG (Hide-the-Ugly) trick during springtime you ask? In the Tulip Library by the Tidal Basin, using the tulips to hide the cars speeding in front of the Washington Monument! At the Franciscan Monastery to hide the cars in the monastery driveway! In the Bishops Garden at Washington National Cathedral to hide some of the scaffolding! In Farragut Square in downtown DC to hide all the cars on K Street! On your own sidewalk, using the flowers to hide the car in YOUR driveway!
Karen Messick
In spring, much like the migratory birds I return to the beach. The ocean and shoreline offer varied and many photographic opportunities from sunrise to sunset. Winter storms leave their mark on the shore, often there are great tide pools and unique shoreline changes. Shooting the shoreline in late afternoon light allows for super contrast of the ripples in the sand. Farm fields and tree lines with strong skies are also great photo opportunities along the shore.
So its time to dust off your camera and go shooting! Join me in the field, with your camera or your iPhone!
This image was made with a Nikon D4 fitted with a 24-70 mm lens. Hand held and processed in monochrome using Nik by Google (free image processing software from Google).

Emily Carter Mitchell
As a photographer, spring is the busiest time of year for me as migrating birds and flowers are abundant throughout the landscape. Loading my car with all of my camera gear from my macro kit for flower photography to my prime telephoto lens for birding, I'm ready for anything.
Wildflowers are one subject I go searching for. Tiny on the forest floor it's a treasure hunt to find them. This week, I managed to find several varieties blooming which are great subjects to adding a texture to using Photoshop. This is a Yellow Trout Lily that blooms for such as short period of time. Laying on the ground, I used my Canon 100mm macro lens with a Canon EF 25 II extension tube and waited for the little bug to be in the perfect position for this capture.
Roy Sewall
The DC area is glorious in the spring, with its vast array of colorful flowers and trees. It feels great to be outside and not be so darned cold. I especially like shooting during early leafing; you can still see through the trees while picking up light yellow-green color from the new leaves.
The C&O Canal has always been my favorite spot for spring photography. Try a photo hike along Widewater (heading south) in the late afternoon for some pretty light on the water and opposite bank. Another great spot is Mary's Wall, (located just beyond the turn for Great Falls overlook). It features a near vertical stone wall to a side channel of the Potomac that goes around Rocky Islands and offers a stunning view from such a high vantage point.
Erika Nizborski
My favorite part about spring shooting is how alive everything is. From one day to the next everything changes. Wedding season is upon us, and I've been busy with sunrise engagement photo sessions. Here is a favorite from over the past few weeks. If your planning on using the National Mall as your backdrop make sure you arrive really early to get a good spot, and make sure you have a permit for your location if it's needed.
Greg Holden
Spring is a great time to photograph since flowers are in bloom everywhere. Whether in your own yard or visiting a public garden such as Brookside Gardens in Wheaton, there are endless possibilities.
I love to focus on details by getting close and filling the frame with the most interesting lines, shapes and colors of an individual flower. You can use your macro lens with a shallow depth of field such as f/4 to isolate a single edge of a flower pedal and blur out the background. We all know what the whole flower looks like, so your job as an artist is to show me a unique view of a flower I've seen a million times.
Donna Vance
Spring is such a short-lived season. The days when things are in bloom are very fleeting. Because of that, I find it a beautiful time of year for portraits especially for little girls. Flowers can add color to images and give your subject something to do (stop and smell the roses). Shooting with a little sunshine on my subject's back gives the whole image that spring feel and keeps from having the little ones squinting into the sun. Because we live in the greater DC area, there are so many botanical gardens that one could visit to capture images of both the fleeting blooms as well as the fleeting days of childhood.
Mike Sheras
I always look forward to spring because the trees become so photogenic and the birds arrive from their winter homes.
The air is crisp and filled with birds singing and I don't have to wear a heavy coat. This year the cherry tree in front of my house wasn't as good as in past years because of our strange weather. Still, I took this shot with a 200mm lens and it does capture the feeling of spring.