We'll find 2 of the most popular photo shows and exhibits this fall and we want to share that information in the hope you'll make it to one of them and find inspiration or learn new techniques to take your photography to the next level.
Our favorite show is NATURE VISIONS PHOTO EXPO on November 3-5.
Held each year in at the Hylton Center in Manassas this 3 day show has it all;
Photography greats giving lectures, presentations and hands-on sessions
Camera manufacturer reps giving demonstrations on the latest photography equipment and supplies.
Local camera stores offering savings on a variety of products.
One of the best nature photo exhibits in the Mid-Atlantic!
Don't miss this chance to take advantage of the opportunities for learning.
On Friday, enjoy the full day seminar with Thomas Heaton Why Landscape Photography? which examines the draw of nature and the appeal of the great outdoors. On Saturday and Sunday, you'll find the event packed full of excitement with more than 50 presentations from such names as Julieanne Kost, Cole Thompson, Steve Gettle and more. View the full SCHEDULE here.
Our own Marie Joabar will once again be presenting, this year she'll give 3 talks, Getting Off Auto, Understanding Camera Basics and Getting Started In Lightroom.
You'll also find several exciting talks from Tim Cooper. Tim used to teach for Capital Photography Center before he moved back to Montana, he's a brilliant instructor and photographer so look for his presentations.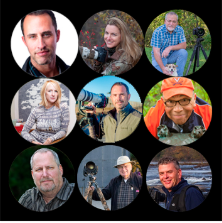 All of the speakers are locally and nationally known photographers with expertise in a variety of fields so there is something for everyone;
Wildlife tips
Nature photography tips
Macro and flower photography
Lightroom, printing
Composing
Black and white
Night photography
And so much more.
Don't wait till November to sign up for the presentations, sign up now before they're filled.
Stop by the Capital Photography Center table to say Hello to Marie and also meet our friendly and most hardworking assistant, Beth Haubach! Also enter to win a free class in our raffle.
Find out all the details about this wonderful event on the NATURE VISIONS website.
Another exciting show, although further away is the PHOTO PLUS EXPO show at the Javits Center in New York on October 25-27.
This is the largest photography and imaging event in North America.
It features over 100 educational seminars, workshops, Photo Walks and Master Classes, and over 200 exhibitors and brands displaying thousands of the latest products and services for you to touch, try and compare.
The whole world of imagery comes together at PhotoPlus Expo: photography, filmmaking drones, digital imagery and more.
More about this show can be found on their website, PhotoPlus Expo.