As the most colorful season, it's no surprise that fall is a favorite for photographing. Whether you're planning family photos or an engagement session, a day trip to Skyline Drive or a hike to a waterfall, fall offers something for everyone. These tips might help for more colorful captures.
* Look to your White Balance setting to get more 'pop': No matter what you use regularly, try using the Cloudy setting to warm up your fall scenes. Cloudy gives off an orange cast which can work well provided there are no people in your scene. Take a few test shots and see what you think.
* Time of day is important: As with any type of outdoor photography, early morning and late afternoon offer the best and most colorful light to work with. The sun is lower in the sky and its light is golden, colored by our atmosphere. There is also less contrast at these times.
* Celebrate a cloudy sky for the soft light it offers: The larger the light source, the softer the light… so think of a cloudy sky as a giant softbox diffusing the light, eliminating dark shadows and jarring contrast of a sunny day. This light works beautifully for posing couples and family. If you have no choice to shoot in the harsh midday sun, consider carrying a large diffuser and also an off camera flash to 'fill in' the shadows.
* Circular Polarizers are handy to remove glare from the scene, even off the leaves. Watch if using by water as they can remove the reflection you intended to capture.

* Explore lakes, streams and waterfalls in fall: There is no limit to the fun you can have with water when it comes to fall shooting. We could write the whole article on the topic but for now we'll at least suggest the following:
- Waterfalls are best captured in very early morning or late afternoon. It's key to shoot these before the sun hits the water can causes it to overexpose, especially the falls. Additionally, the surrounding leaves will not suffer the sharp contrast.
- Colorful fall reflections can be found in just about any body of water; a still lake or pond and in rivers and streams. Even a good size puddle following a rain can reflect the color from over hanging tree branches framed against the blue sky.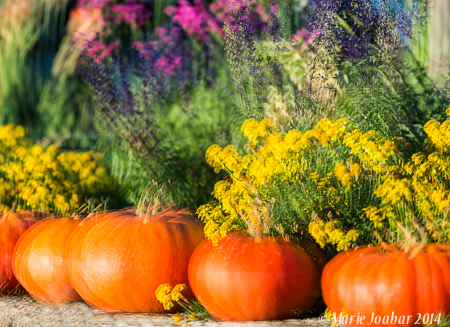 * Don't have the time to venture far? Look no further than your downtown area or your neighborhood streets to capture fall decorated shops, porches or city scenes.
* Think outside of the box and get creative with funky colorful shots. Try zooming the lens while shooting, turning the camera, or playing with multiple exposures or swipes. Set a small aperture and a low ISO so you can use a slow enough shutter speed to have enough time for zooming or swiping.
So far, fall is off to a great start and the color is really just beginning. Grab your gear and seek out your favorite subjects or scenes surrounded with the colors of fall.