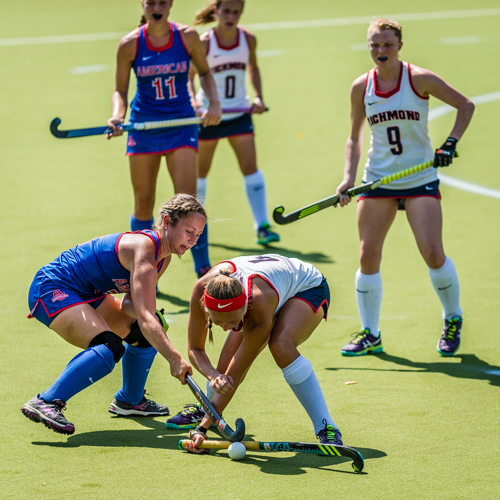 Join Mitchell Layton and spend a day shooting NCAA Division 1 women's Lacrosse at American University. Learn what it takes to be a Pro Sports Photographer and the dynamics of shooting college sports.
Shoot on the sidelines and learn how to capture this exciting fast paced sport. The 12:00 pm women's Lacrosse game is against Holy Cross.
Mitchell will review camera settings, white balance, lighting, what makes a great shot, looking at the moment and more. He will also offer guidance during the games and answer any questions.
Recommended gear: A telephoto lens with focal range up to of 200mm is good. A longer lens, such as a 300mm, would also work well but is not required. A wide lens is good for full field or team shots.
Tenlytown is the closest Metro, about 1.5 miles from the field. A shuttle runs from Metro to Campus. If driving, there is free parking on weekends on the campus about a block from our meeting place.
Questions about this class can be directed to Marie Joabar at info@capitalphotographycenter.com
Class Limit: 5
What People Are Saying About Mitchell
"The class with Mitchell was fantastic! He is an excellent teacher and just a very nice guy! He made the extra effort to teach us how to get the best shots and what to look for during the game. I could not ask for more. It was money well spent to say the least."
"I had such a great time – I'm not sure what more Mitchell could have done to make it better. I had high expectations and you exceeded them!"
"I had an absolute blast and learned so much! Having someone of Mitchell's stature take the time to teach and talk with us is just phenomenal. I am so excited to continue practicing the techniques and skills he taught and can not wait to learn more… The class size was just right too! Great one on one opportunities!"
"The perfect training course for those interested in understanding how difficult, yet rewarding sports photography can be."
Instructor: Mitchell Layton
​Long standing relationships with the Washington Nationals, George Washington University, American University, Georgetown University and the Verizon Center have established Mitchell as the area's leading sports photographer.
In addition to his work with local sports teams, Mitchell has had the opportunity to cover three Olympic games, as well as every major sporting event in the United States including, but not limited to Super Bowls, Stanley Cup Finals, NCAA Championships and World Series. His work appears regularly on sports web sites that include Sports Illustrated.com, ESPN.com, Yahoo.com and Fox.com, as well as in many print publications that are read worldwide. His photographs have appeared in Sports Illustrated, ESPN: The Magazine, USA Today, Time, Newsweek and National Geographic.
In recent years, his work has been a part of an exhibit at the National Portrait Gallery that documented the changing neighborhood around the then, newly built, Verizon Center. Having been part of the Washington D.C. and Baltimore sports world for over 35 years, Mitchell has distinguished himself as a well established and well respected photographer known for his creativity, reliability and long term dedication to service. More of his work can be viewed on his website, www.mitchelllayton.com. His photos are represented by Getty Images and can also be viewed on their website.