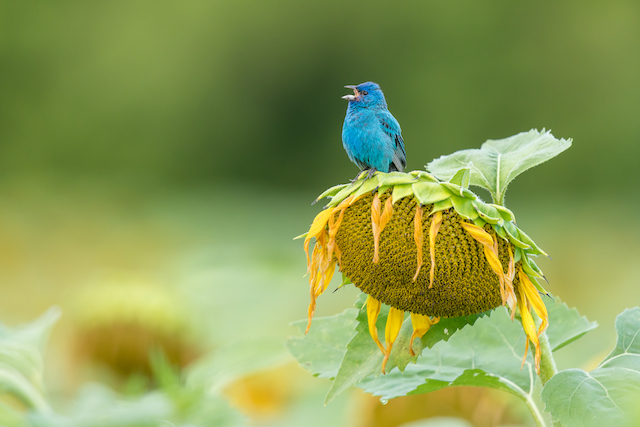 As the sunflowers begin to wane at McKee-Beshers and the seed heads begin to develop, the birds appear and land to dine on the sunflower heads. Almost seeming to pose, Indigo Buntings sing their hearts out while the flighty American Goldfinch challenges even the best nature photographer.
Join Emily Carter Mitchell along the sunflower fields and wait patiently for the birds to appear to capture wonderful bird images with brilliant color. Improve your technical skills for bird photography and learn how to create beautiful bird images.
Recommended Equipment:
· Digital Camera with a telephoto lens of 150-600mm focal range.
· Tripod with Gimbal head (if available.)

​​​​​​Class Limit: 8
What People Are Saying About Emily
"Thoroughly enjoyed the class, Emily is a wonderful instructor and I learned a lot! I really appreciate her taking the time working with me on lighting and composition even though I had a smaller compact camera. I'll look forward to taking other classes she teaches!"
"Emily was terrific. She gave explicit details re: camera settings, light, composition, and point of view. She was very patient and gave individual attention. I appreciated the opportunity to learn from her."
"Emily provided great instruction ahead of time, with tips and ideas. She was wonderful at making sure that everyone got the attention they needed and got real time feedback and help. Emily is awesome!"
Instructor: Emily Carter Mitchell
Emily Carter Mitchell is an outdoor photography enthusiast well known for her bird, nature and wildlife photography. With over 20 years in the travel and hospitality industry, the sense of adventure and discovering lesser known destinations continue to inspire Emily's photographic endeavors.
As a gifted photographer and avid birder in the DELMARVA area, time and patience has given her the insight in understanding the behaviors and characteristics of the avian world. Capturing a moment that expresses personality and a sense of humanity within the natural world brings one closer to nature.
Emily is a published photojournalist and her work can be seen in the Bay Weekly, on numerous book covers and smart device apps. Her blog, Hoof Beats and Foot Prints blog is internationally recognized and showcases her beautiful images and insights on nature.
Emily teaches the birding, wildlife and the Adventures On The Trails classes for Capital Photography Center.