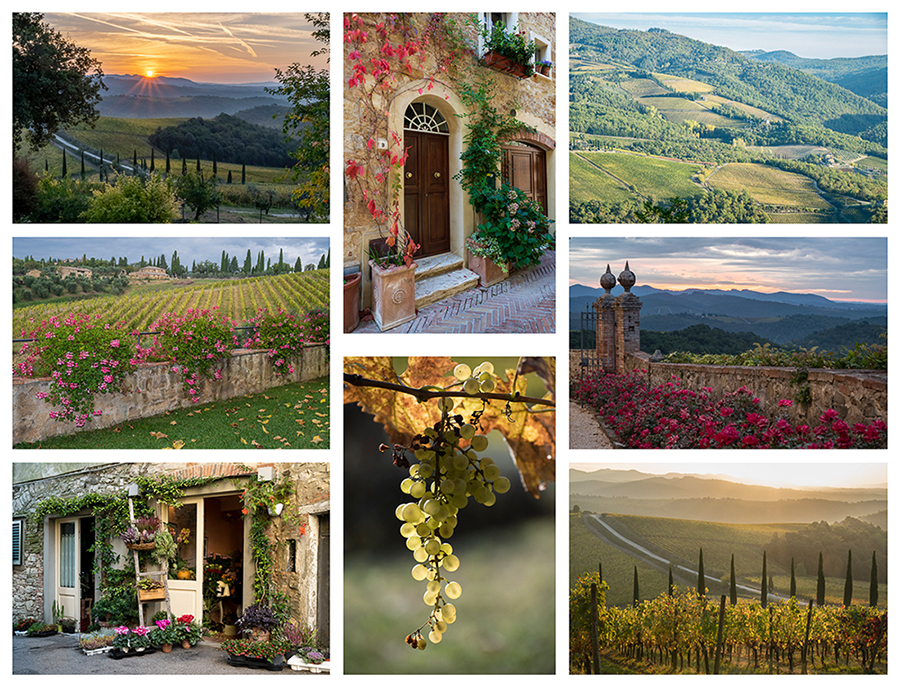 Plan your dream vacation, join Marie Joabar in Tuscany, Italy from October 15 to 23, 2019 for an exciting 8 days photographing this picturesque region!
Historic walled cities, charming villages, sprawling wineries and ancient cathedrals, these are just some of the places we will visit on this fall photography workshop in beautiful Tuscany. Italy is gorgeous any time of year but autumn provides some of the best photographic opportunities and we'll enjoy capturing them all.
Whether you're an experienced shooter or are just picking up your camera for the first time, all will come away with stronger skills in exposure, composition and camera settings. We'll maximize our time in the field photographing and will be learning hands-on. Our group size will be 8 to 10 people so whether we're exploring the Tuscan countryside or the city of Siena, everyone will get plenty of one on one instruction.
Although any camera will do, we recommend one with exposure controls such as a DSLR or mirrorless camera for more creative exposure techniques and compositions.
This workshop is offered through Il Chiostro at their annual Autumn Arts Festival held at the Dievole Chianti Classico Winery.
They offer 3 separate workshops: Painting with Lynn Stender, Tuscan Cuisine with Linda Mironti and Andrea Anichini, or Photography with Marie Joabar.
Generally, your workshop will shape your activities at the Festival. For example, the cooking class may go olive picking while the painters spend the day in Radda painting the vistas of the Tuscan hills and the photographers travel to Montalcino or Pienza for a full day shoot. Then everyone will return to the winery in the evening for the opera class and dinner together.
In addition to enjoying 1 of the 3 workshops, there are several other general activities and excursions that are open for all to participate in, such as;
Wine tasting and winery tour throughout the Dievole complex to give you a good understanding of Chianti's greatest treasure, red wine.
visit to the medieval city of Siena with time to explore the Duomo, the art museums, sit in the Piazza del Campo with a cappuccino or shop the elegant stores along the main pedestrian street.
A mid-week pig roast - a harvest feast in the tradition of a typical Tuscan celebration.
Dinner in the old wine cellar with local musicians and the chef's most special harvest meal from antipasto to dolci.
Italian Opera appreciation classes every evening before dinner.
Various excursions with your class.
A half day trip to hill-towns like San Gimignano, Pienza or Monteriggioni
Most activities take place in and around the 900 year old Dievole estate & vineyard.
READ MORE about the Photography Workshop at the festival
READ MORE about the Autumn Arts Festival
READ MORE about DIEVOLE Winery
Price: $3,690 per person. (See Il Chiostro Autumn Arts Festival website for full details.)

Fee includes:
Lodging inDievole's 16th century inn and guest houses in the magnificent Tuscan hills. The entire facility recently underwent a major facelift transforming all rooms into spacious, luxury lodgings. Rooms are doubles or suites with modern bathrooms and heating.
2 meals per day (dinner with wine and a full Tuscan breakfast)
Workshop tuition and fees (except where noted)
General activities (except where noted)
Transfers between Siena train or bus station and Dievole
Limit: 8-10
Il Chiostro is handling the registration for this. Any questions can be directed info@ilchiostro.com or call and speak to them in person at 800-990-3506.
What people are saying about the 2018 Il Chiostro Photography Worshop:
"The Il Chiostro photography workshop was the perfect combination of day trips to fabulous destinations throughout Tuscany for hands on shooting, limited classroom instruction, interaction with the other participants of the Tuscan Cuisine and Painting workshops, and delicious food and drink. It was truly one of my favorite vacations! Our photography mentor and instructor Marie was wonderful – always available to answer questions and offer helpful suggestions, all while doing so as if we had been friends for decades. Her passion for photography and desire to share her wealth of knowledge with others is unique and was very much appreciated."
Robert M.
"Having had the good fortune to be one of the participants in last Fall's Il Chiostro program in Tuscany, I would say the following: One could not have craved a more felicitous location than Dievole, the winery which hosted the retreat. All the pictures you will see of this estate will underestimate its beauty, which changes with the light, from morning till dusk, a photographer's dream. The dinners were quite good, and often extraordinary, the breakfasts were extensive and challenged one's capacity for self control. The accommodations were luxurious.
We traveled to a variety of towns and locals within about an hour's drive from Dievole for photographic opportunities. Our drivers, who doubled as guides and factotums and artists and experts on all things Italian, were folks you would want to keep as friends. They resided with us at Dievole. The staff at the winery were attentive and helpful in that friendly and delightfully informal Italian way.
Marie was an excellent hands on teacher and a wonderful person. She was always available to provide help and advice and devoted several hours of in house time to an introductory course on Lightroom, a real boon to beginners. I would highly recommend this workshop to others."
Robert K
"What a great experienced! If you enjoy good food, good wine, a beautiful resort in Tuscany, making new friends, plus advancing your photography skills, this is the adventure for you. I leaned so much from Marie."
Larry N.

"Marie is a patient and encouraging instructor. I had a great time and I learned a lot."
Barb V.
"Loved your kind, patient and nurturing style in teaching us."
Gwen W.
"The workshop was truly an awesome experience that we will never forget"
H & L McD.
Click here to view Images from participants from the 2018 Tuscany Photography Workshop
What People are Saying about Marie
"Marie is very friendly and was able to put herself in the mind of the beginner using clear and concise communication!"
"Marie clearly knows photography and comes from a technical perspective, but she has a talent for translating that technical information into understandable content and not everyone can do that! She was terrific!"
"The instructor made the class so interesting that it did not appear to be a four-hour class!"
"Marie struck the perfect balance of knowing her stuff and being non-intimidating!"
Instructor: Marie Joabar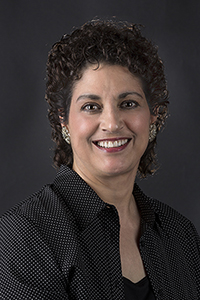 Drawing on more than 12 years experience as the Corporate Trainer and Education Programs Manager for one of the Washington DC area's leading camera retailers, Marie Joabar founded Capital Photography Center in January 2012.
With a talented staff of instructors and a wide variety of classes, its mission is to help those with a love of photography grow their passion and reach their goals - be it to capture better snapshots or become a professional photographer.
As an instructor herself, Marie finds just the right way to take complicated concepts and technology, and break the information down into easy-to-understand nuggets to share with others. Whether teaching photography basics or helping one better understand their camera, she works to take away one's intimidation or sense of overwhelming that often accompanies learning new things so they can begin enjoying the craft and develop their skills.
Marie is also very active in the Shenandoah Valley where she teaches photography classes for Shenandoah County and writes the Shared Exposures photography column for "The Mountain Courier." Her photos can be found in various print and online publications for the Shenandoah County Department of Tourism and have been published in various local magazines and newspapers.
She is a member of ASMP (American Society of Media Photographers) and VECCA (Valley Educational Center for the Creative Arts). Her work can be seen on her website at www.mariejoabar.com.
Marie teaches the following classes for Capital Photography Center:
* DSLR Photography Basics
* Fieldwork - Photography Basics
* The Lightroom Library Module In Depth
* The Lightroom Develop Module In Depth
* And more