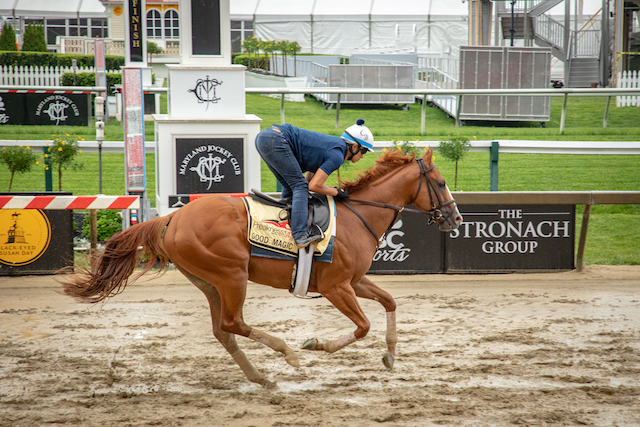 At the break of dawn, the racehorses are being exercised before the big race day. Join Emily Carter Mitchell and experience Pimlico to its fullest with this sunrise tour at Old Hilltop.
After enjoying the sunrise on the Grandstand apron while watching the Preakness contenders' morning workouts, you will get an insider's perspective on racing during an escorted tour of the stable area. You never know who you may run into on the backside. Trainers, owners, exercise riders and even jockeys start work early.
We will work on capturing horses in motion in low light and either panning or creating motion blurs. Enjoy the full access of Pimlico, learn more about the horse racing industry and capture one of Maryland's most iconic destinations.
A digital digital camera with manual exposure controls and lenses in the 70mm to 200mm focal range will work well for this class.
Topics include:
Technical aspects including camera settings, histogram, understanding light, and composition.
How to capture fast-moving subjects for both freezing the motion and creating motion blur.
Creating storytelling compositions.
Limit: 8
What People Are Saying About Emily
"Thoroughly enjoyed the class, Emily is a wonderful instructor and I learned a lot! I really appreciate her taking the time working with me on lighting and composition even though I had a smaller compact camera. I'll look forward to taking other classes she teaches!"
"Emily was terrific. She gave explicit details re: camera settings, light, composition, and point of view. She was very patient and gave individual attention. I appreciated the opportunity to learn from her."
"Emily provided great instruction ahead of time, with tips and ideas. She was wonderful at making sure that everyone got the attention they needed and got real time feedback and help. Emily is awesome!"
Instructor: Emily Carter Mitchell
Emily Carter Mitchell is an award winning and published nature and wildlife photographer based in Annapolis, Maryland. Through her work Nature as Art she brings a creative interpretation of the natural world around us bringing a sense of serenity in a world increasingly filled with chaos. There is a sense of stillness and ethereal attributes in her images that has one see beyond what is first obvious.
Emily holds a Master's Degree in Global Management, with a corporate background in Human Resources and extensive years in the travel and hospitality industry. Her photographic journey began when she was a teenager and she has always enjoyed photography as a way to capture the world around her.
Emily's passion of photography is shared with others through her nature and wildlife photography classes for Capital Photography Center based in the Metro DC area.
To enjoy her creative work, please visit Emily's website at: www.emilymitchellphotographycom
Emily teaches the following classes for Capital Photography Center:
* Getting Started in Bird Photography
* Photo Adventures and to various parks and waterfalls
* A wide variety of In-The-Field Shooting classes
* Editing with Topaz