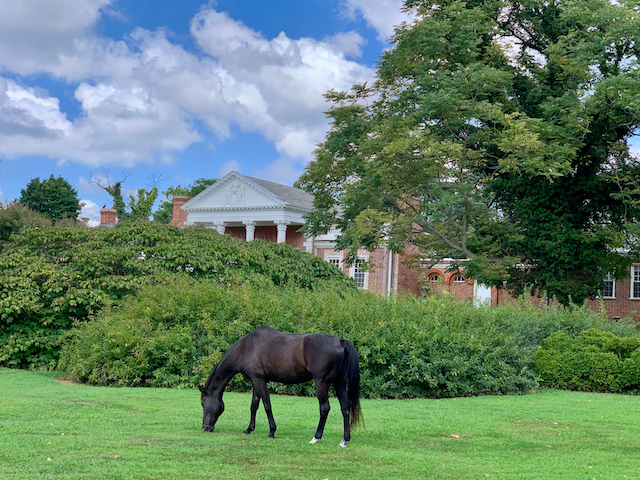 Enjoy the country life and horses in a rustic barn setting. Join Emily Mitchell at an exclusive historical estate filled with Maryland history and horses in the backdrop. You'll have the opportunity to get up close and personal with these noble beasts and capture their unique personalities.
Photographing any pet or large animal is challenging as they are in constant motion. We'll learn what camera settings to use to freeze their movement and then how to selectively show motion. We will then capture compelling images of these magnificent beasts.
Topics included:
Technical aspects for appropriate camera settings for pet and animal photography.
How to expose properly for dark and light animals.
Understanding light and how it can be used creatively.
Developing an eye for creative compositions from broad views to small details in the scene.
While any camera is appropriate for this class, a DSLR or mirrorless camera with a variety of lenses from wide to telephoto will be beneficial.
A per person donation is collected for the horse handlers.
Class limit: 10
NOTE - All students and instructors, including those who have been vaccinated against COVID-19, AGREE TO WEAR A FACE MASK during the class and MAINTAIN A SOCIAL DISTANCE OF SIX FEET or more when possible.
Questions can be directed to Marie Joabar at info@capitalphotographycenter.com.
What People Are Saying About Emily
"Thoroughly enjoyed the class, Emily is a wonderful instructor and I learned a lot! I really appreciate her taking the time working with me on lighting and composition even though I had a smaller compact camera. I'll look forward to taking other classes she teaches!"
"Emily was terrific. She gave explicit details re: camera settings, light, composition, and point of view. She was very patient and gave individual attention. I appreciated the opportunity to learn from her."
"Emily provided great instruction ahead of time, with tips and ideas. She was wonderful at making sure that everyone got the attention they needed and got real time feedback and help. Emily is awesome!"
"The instructor is a very good teacher and talented photographer. She takes us to interesting locations, gives a short briefing and technical review, then leads the class through the landscape ensuring that we students see all the photo possibilities, while checking that we keep our camera settings adjusted for the changing light. I get introduced to something new in every class. Things I could never have seen alone. With her instruction, I am now producing images that I enjoy to keep and enjoy to share with my family and friends."
Instructor: Emily Carter Mitchell
Emily Carter Mitchell is an award winning and published nature and wildlife photographer based in Annapolis, Maryland. Through her work Nature as Art she brings a creative interpretation of the natural world around us bringing a sense of serenity in a world increasingly filled with chaos. There is a sense of stillness and ethereal attributes in her images that has one see beyond what is first obvious.
Emily holds a Master's Degree in Global Management, with a corporate background in Human Resources and extensive years in the travel and hospitality industry. Her photographic journey began when she was a teenager and she has always enjoyed photography as a way to capture the world around her.
Emily's passion of photography is shared with others through her nature and wildlife photography classes for Capital Photography Center based in the Metro DC area.
To enjoy her creative work, please visit Emily's website at: www.emilymitchellphotography.com
Emily teaches the following classes for Capital Photography Center:
* Getting Started in Bird Photography
* Photo Adventures and to various parks and waterfalls
* A wide variety of In-The-Field Shooting classes
* Editing with Topaz