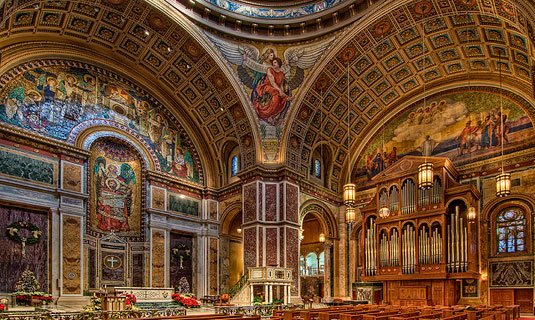 Dedicated in 1913, the Cathedral of Saint Matthew the Apostle (which honors the patron saint of civil servants) plays a major role in the Catholic life of the nation's capital. It is the seat of the Archbishop of Washington, Pope John Paul II celebrated Mass here in 1979, and President John F. Kennedy's funeral was celebrated here on November 25, 1963.
Designed by New York architect C. Grant La Farge, the Cathedral has been cited as having "one of the most beautiful church interiors of modern times." Its walls are laden with shimmering mosaics suggestive of those found on in the renowned churches of Ravenna, Italy.
With special permission from the Cathedral staff, we are pleased to offer an exclusive Photo Safari that takes you inside the spectacular St.Matthew's Cathedral, teaching you how to photograph church interiors without flash, capturing the architectural beauty of a Cathedral laid out in the form of a 155' x 136' Latin cross, with the interior rising 190', and how to photograph its stained glass windows.
This Safari is taught by architectural photographer E. David Luria, who will make his 28mm F3.5 shift lens and his 10mm fisheye lens available to Nikon camera users.
Recommended gear: any camera with exposure controls, lenses in the range of 18-200mm. Wider lenses such as 11mm will work well if you have them. A sturdy tripod is essential for this class as we will be shooting indoors in lower light.
COVID-19 Safety Practices: Masks are optional.
Questions can be directed to Marie Joabar at info@capitalphotographycenter.com.
Class Limit: 9
What People Are Saying About David
"David, I can't tell you how much I appreciate the time and concern you have for your students. You were born to teach!"
"The Safaris in DC are worth every penny and I would highly recommend them to others. Even though I live and work in DC, David showed me a whole new way to see and photograph the monuments that I walk past everyday. I got some great photos that I'm thrilled with! I'll be looking for more Safaris to take soon."
"The instructor made the class interesting and not only used story-telling to demonstrate key concepts, but was able to put me at ease with mistakes I made during the practice time. Thank you for the opportunity to advance my skills with expert instruction."
Instructor: E. David Luria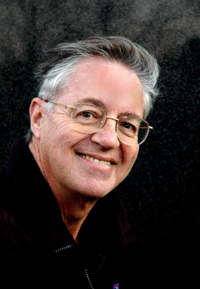 E. David Luria is a commercial photographer based in Washington DC specializing in architecture, editorial, event, food, art/still life and landmark photography.
A member of the American Society of Media Photographers and the Society of Photographic Educators, he has had his images of the National Capital Area appear in over 100 national and local publications and on calendars of the US Capitol Historical Society.
David is a graduate of Amherst College and studied photography in Paris with a protege of Henri Cartier Bresson.
David teaches the following classes for Capital Photography Center:
* Capital Photography Center Photo Safaris