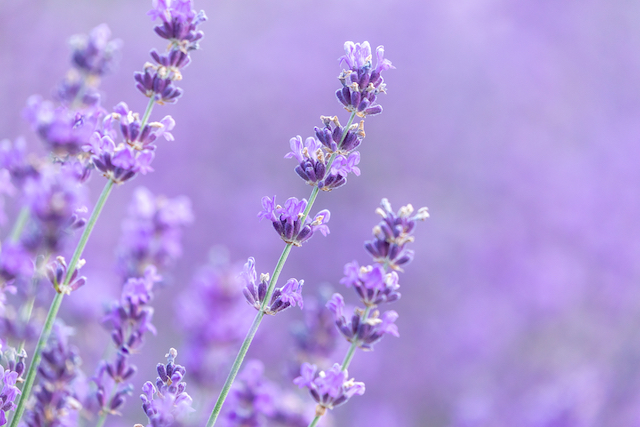 Join Emily Carter Mitchell at small family-owned lavender farm in Maryland and enjoy the delicate scent of lavender as you capture lovely images of the fields. The farm offers a beautiful backdrop with a stunning barn and well-kept lavender rows that offer a variety of perspectives.
During your visit, you will learn how to approach a large scene and how to strategize to maximize your photographic opportunities as the day progresses.
Topics include:
• Elements of composition to create strong images.
• Understanding the exposure triangle and how to read a histogram.
• Selection of camera equipment to capture the type of images you'd like to achieve.
• Creative floral photography tools and techniques to capture unique images.
Equipment Needed:
• Digital camera with steady tripod.
• Filter kit including Circular polarizer and Graduated Neutral Density Filter.
• Landscape lens with focal range of 24-105mm and zoom lens of 70-200 or similar.
• Macro lens(es) if available.
Note: A $25.00 access fee is included in your registration and you'll receive a lavender bouquet to take home.
COVID Safety Practices: Masks are optional.
Questions can be directed to Marie Joabar at info@capitalphotographycenter.com.
Class Limit: 10
What People Are Saying About Emily
"Thoroughly enjoyed the class, Emily is a wonderful instructor and I learned a lot! I really appreciate her taking the time working with me on lighting and composition even though I had a smaller compact camera. I'll look forward to taking other classes she teaches!"
"Emily was terrific. She gave explicit details re: camera settings, light, composition, and point of view. She was very patient and gave individual attention. I appreciated the opportunity to learn from her."
"Emily provided great instruction ahead of time, with tips and ideas. She was wonderful at making sure that everyone got the attention they needed and got real time feedback and help. Emily is awesome!"
"The instructor is a very good teacher and talented photographer. She takes us to interesting locations, gives a short briefing and technical review, then leads the class through the landscape ensuring that we students see all the photo possibilities, while checking that we keep our camera settings adjusted for the changing light. I get introduced to something new in every class. Things I could never have seen alone. With her instruction, I am now producing images that I enjoy to keep and enjoy to share with my family and friends."
Instructor: Emily Carter Mitchell
Emily Carter Mitchell is an award winning and published nature and wildlife photographer based in Annapolis, Maryland. Through her work Nature as Art she brings a creative interpretation of the natural world around us bringing a sense of serenity in a world increasingly filled with chaos. There is a sense of stillness and ethereal attributes in her images that has one see beyond what is first obvious.
Emily holds a Master's Degree in Global Management, with a corporate background in Human Resources and extensive years in the travel and hospitality industry. Her photographic journey began when she was a teenager and she has always enjoyed photography as a way to capture the world around her.
Emily's passion of photography is shared with others through her nature and wildlife photography classes for Capital Photography Center based in the Metro DC area.
To enjoy her creative work, please visit Emily's website at: www.emilymitchellphotography.com
Emily teaches the following classes for Capital Photography Center:
* Getting Started in Bird Photography
* Photo Adventures and to various parks and waterfalls
* A wide variety of In-The-Field Shooting classes