Blackwater NWR boasts over 20,000 acres of marsh and woodlands that serve a large population of migrating birds along the Atlantic Flyway. During the winter months the number of ducks, geese, snow geese and other migrating birds swell.
Second only to Florida, Blackwater has the largest population of nesting eagles on the east coast and January is nesting time for these birds. We will be honing our skills at photographing birds and potential other wildlife as we move around the refuge.
Besides wildlife, we'll explore the many compositional opportunities that nature presents us. The refuge offers a diverse landscape from wide open vistas to smaller more intimate scenes. Join Kim Kelly as she leads you around Blackwater and provides guidance on photographing eagles and other wintering birds as well as creating purposeful landscapes.
Topics include:
Field techniques for bird and wildlife photography.
Creative composition with nature photography.
Technical aspects including camera settings and understanding light and composition.
Recommended Equipment: Digital camera with a landscape (24-105mm) and a telephoto (150-600mm) lens. A sturdy tripod and filters including: Circular Polarizer, Graduated Neutral Density and Graduated Neutral Density 6 or 10 stop.
COVID Safety Practices: Masks are optional.
Questions can be directed to Marie Joabar at info@capitalphotographycenter.com.
Class limit: 8
Instructor: Kim Kelly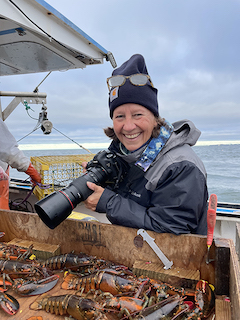 Kim's interest in photography took root when she received her first camera, a Canon AT-1 (film) as a college graduation gift and she has continued to shoot ever since. She eventually migrated over to digital technology and her passion for capturing images continued to grow. Kim served as the Field Trip Director for three years for the Digital Photography Club of Annapolis and serves as the club's liaison to the Maryland Photography Alliance.
She currently makes her home near Annapolis and considers the Chesapeake Bay region, with its extensive shorelines and historic maritime richness, her playground. Through her images, she hopes to invoke a curiosity in the viewer to ask questions about her subjects. She enjoys taking them places they would not normally go themselves. Many of her works feature old workboats or nautical treasures found in and around the tributaries of the Bay. She is also passionate about photographing nature, wildlife, landscapes, travel, and architecture, etc.
Kim's works have been displayed in local Annapolis businesses, been in juried shows and have been in print in several publications including Chesapeake Bay Magazine, Maryland Dept. of Natural Resources 2019 Calendar, MarinaLife and the cover of the Tidewater Times. She has had several solo exhibitions in the area as well. You can see her images adorning the walls of several commercial & residential properties in the area.