Fee includes a $25 entrance fee and 5 tulip blooms.

Join Kim Kelly for a springtime floral journey as we tip toe through the tulips. If you've ever dreamed of looking out over the tulip fields of the Netherlands, look no further than Burnside Farms in Nokesville, VA. For 3 weeks each April, the fields of this farm burst with 2 million+ tulip and daffodil blossoms in all of the colors of the rainbow.
Photographic opportunities include landscape vistas down to the intimate lines and details of these floral gems. Learn how to see flowers and gardens in artistic ways. Explore aspects for Macro/Close-up photography including equipment needs, focusing tips (outdoors), camera settings, lighting and compositional techniques.
Recommended Equipment: Digital camera, lenses choices to include macro, lenses in the range from 18-200 and a tripod. A polarizing filter, extension tubes, diffusers and reflectors, if you have them.
COVID Safety Practices: Masks are optional.
Questions can be directed to Marie Joabar at info@capitalphotographycenter.com.
Class Limit: 8-10
Instructor: Kim Kelly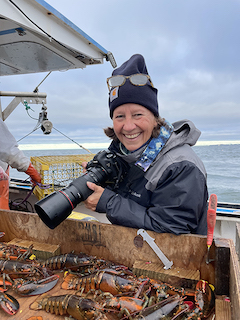 Kim's interest in photography took root when she received her first camera, a Canon AT-1 (film) as a college graduation gift and she has continued to shoot ever since. She eventually migrated over to digital technology and her passion for capturing images continued to grow. Kim served as the Field Trip Director for three years for the Digital Photography Club of Annapolis and serves as the club's liaison to the Maryland Photography Alliance.
She currently makes her home near Annapolis and considers the Chesapeake Bay region, with its extensive shorelines and historic maritime richness, her playground. Through her images, she hopes to invoke a curiosity in the viewer to ask questions about her subjects. She enjoys taking them places they would not normally go themselves. Many of her works feature old workboats or nautical treasures found in and around the tributaries of the Bay. She is also passionate about photographing nature, wildlife, landscapes, travel, and architecture, etc.
Kim's works have been displayed in local Annapolis businesses, been in juried shows and have been in print in several publications including Chesapeake Bay Magazine, Maryland Dept. of Natural Resources 2019 Calendar, MarinaLife and the cover of the Tidewater Times. She has had several solo exhibitions in the area as well. You can see her images adorning the walls of several commercial & residential properties in the area.