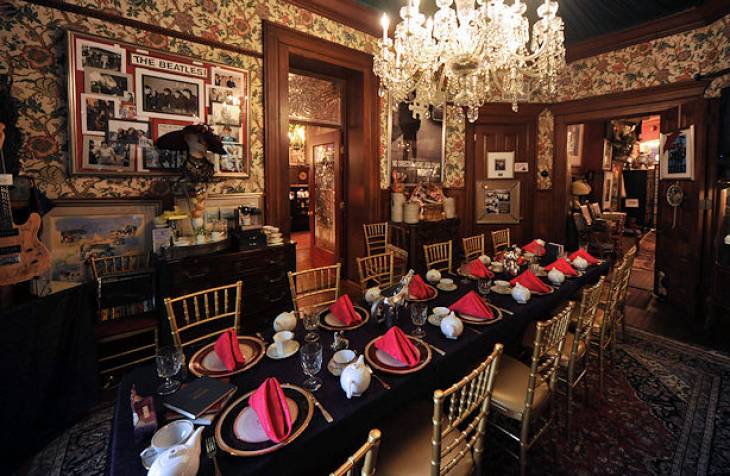 Designed in 1892 by Edward Clark, the architect of the US Capitol, the Mansion on O Street is housed in a historic building, incorporating 30,000 square feet into 100 rooms. It includes 6 main kitchens, 12 conference rooms, and 30 special event galleries. Rooms, suites and residences have varied theme, including a two-story log cabin, a safari room and an art deco penthouse A conference center is used for corporate events, off-site meetings, corporate retreats, engagements, weddings, parties and fundraisers. The foot-print includes large and small meeting galleries that can hold up to 200 guests.
On February 14, 1980, H.H. Leonards purchased 2020 O Street, the first row house in the series of connected brownstones. Leonards renovated the townhouse as a bed-and-breakfast and private club. In 1998 Leonards opened the O Street Museum inside the facility. The museum includes art, sculpture, music, memorabilia and written manuscripts in the collection. The museum hosts concerts, book signing talks, film screenings and tours throughout the year. Part of the building also serves as a hotel for distinguished guests and artists. One of its most famous guests was Rosa Parks!
Thanks to the work of Mansion on O Street president Ted Spero, we are being given access to the building when it opens at 10 am to photograph its interior and exterior, and tripods are allowed. The rooms rival those of the most elegant mansions in Washington, DC with their décor and furnishings, and there is a photogenic surprise in every room
Here are some samples of the types of images clients will get on this safari
https://www.flickr.com/photos/123745666@N04/sets/72157696075430290
This safari is designed for intermediate and serious amateurs, who wish to learn how to photograph luxury homes and interior décor. We'll cover tips on shooting in Manual, using Kelvin temperatures to get correct white balance settings, using flash to balance indoor and outdoor light and more. Specifically it will cover:
Interior Photography:
- how to choose lenses for interior photography;
- camera angles for interior shooting;
- how to shoot furnished, and unfurnished, interiors;
- how to achieve extreme or shallow depth of field in image focus;
- how to highlight interesting built-in interior details such as sconces or door hardware;
- how to balance indoor light with outdoor sunlight to avoid overexposed window views;
- how to achieve correct exposure on interior photography;
- how and when to shoot using only the existing ambient light;
- how to choose correct white balance settings for interior photography
Exterior Photography:
- how and when to shoot exterior views of buildings, based on the position of the sun;
- how to shoot north-facing buildings that are always in shade;
- color filtration/ white balance and exposure tips for exterior photography;
- how to use flowers trees and bushes to enhance the exterior views;
- how to keep exterior vertical lines perfectly aligned with the vertical edges of camera viewfinders;
- twilight vs. daylight for shooting of exterior views;
- how to eliminate cars and people from exterior views without Photoshop
Basic equipment needed for this safari, or to do quality architectural photography
Any camera will do, even a late-model smartphone, but for best results we recommend: Canon/Nikon/Pentax/Sony /Olympus /Fuji SLR camera of at least 12MP, wide-angle lens (10-20 mm or 12-24mm for digital DX SLR's, 20-24 mm for full frame/FX SLR's), circular polarizer filter, a tall, sturdy, heavy tripod with adjustable head, carpenter's 6-inch bubble level for horizontal/vertical readings, plus an adjustable external flash unit with manual settings. Camera should have ability to adjust shutter speed, aperture, ISO and white balance settings. The instructor will bring a 28 mm perspective-control or shift lens for use by Nikon camera shooters..
$99 fee includes admission to the mansion and all photography instruction.
What People Are Saying About David
"David, I can't tell you how much I appreciate the time and concern you have for your students. You were born to teach!"
"The Safaris in DC are worth every penny and I would highly recommend them to others. Even though I live and work in DC, David showed me a whole new way to see and photograph the monuments that I walk past everyday. I got some great photos that I'm thrilled with! I'll be looking for more Safaris to take soon."
Instructor: E. David Luria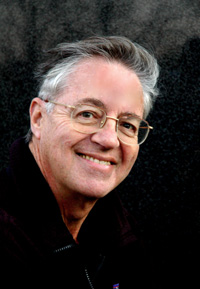 E. David Luria is a commercial photographer based in Washington DC specializing in architecture, editorial, event, food, art/still life and landmark photography.
A member of the American Society of Media Photographers and the Society of Photographic Educators, he has had his images of the National Capital Area appear in over 100 national and local publications and on calendars of the US Capitol Historical Society.
David is also founder and director of the Washington Photo Safari which, since 1999, has conducted 4,500+ photo safaris, training over 32,000 people in the techniques of travel, nature and portrait photography.
David is a graduate of Amherst College and studied photography in Paris with a protege of Henri Cartier Bresson. His work can be viewed on his website at www.eDavidLuriaPhotography.smugmug.com.
David teaches the following classes for Capital Photography Center:
Capital Photography Center Photo Safaris
Photography As A Second Career
Travel and Vacation Photography
Washington DC, a Photographer's Paradise