Although it's been almost 3 years since Adobe introduced a second Lightroom version (Oct 2017) there remains a lot of confusion about which version does what and which one you should use. Here's hoping this article clarifies some of that.
Prior to Oct 2017, there was one Lightroom program and it was called Lightroom Creative Cloud or Lightroom CC. Then they added a new Lightroom program which was cloud based and designed to be a mobile version. They renamed the old version Lightroom Classic and they called this new cloud based version Lightroom Creative Cloud or Lightroom CC. Later they dropped the Creative Cloud term and now it's just called it Lightroom. However, on their website you may see it sometimes referred to as Adobe Photoshop Lightroom (just to make it even more confusing, right?!)
So here is the scoop on the different versions as of today.
LIGHTROOM CLASSIC – Computer based
- This computer based version is represented by a navy blue square icon trimmed in light blue.
- It can only be used on computers. Your photos are stored in folders on your computer or your external drives.
- You can put images in a Collection and then "Sync" it to the app on your mobile device to make certain images portable. These portable images are actually Smart Previews which are smaller files allowing for easier access n mobile devices than the larger originals. You can also rate, categorize and edit them on the app on your iPad or smartphone. Any changes you make are "synced" back to the original images on your computer.
LIGHTROOM - Cloud based
This version is represented by a navy blue square icon with rounded corners and trimmed in turquoise.
This Cloud based version can be used on computers, on mobile devices or on web browsers. Your full resolution images are stored in the cloud and can be accessed from any of your devices anywhere at any time as long as you have internet.
Changes you make to the images are "synced" to all of your devices that have Lightroom such as your computer or your mobile devices.
WHICH IS RIGHT FOR YOU
- If you want your images on your own computer or external drives and not in the cloud, then you'll want to use Lightroom Classic.
- If you prefer your images in the cloud then the newer Lightroom is better for you but you'll need internet to access them.
- The Classic version is still a bit more robust as the new version doesn't yet include all of the features that are in Classic.
- Although the editing tools in the new version are impressive, the tools in the Classic version are more precise when using.
- With the Classic version you have to manually enter keywords on your images to have that data available for future searches. In the cloud based version, although you can add keywords, you don't necessaily neet to as this version uses artificial intelligence which allows you to search based on the content in the image.
- Adobe's recommendation (and we strongly agree) is that you pick one version and use it on an ongoing basis. They don't recommend using both together. It's fine to use Classic and sync some collections to your mobile devices but it's not so good to use Classic and the cloud based version and sync and share between the two. After you sign up for an Adobe account (subscription), once you download the programs, you'll have to install them. Only install the LR version you'll be using, install Classic or Lightroom but not both.
BUYING THE RIGHT PLAN
This is where it can get confusing because depending on which page on the Adobe website you land on, you may or may not see the version you want. You'll most likely see the Lightroom version but you might not see the Classic version without doing a bit of digging. It's as if Adobe is pushing people to the cloud version and not the Classic one. Shame on them for making it so difficult to see both clearly listed so one can make an informed decision.
- The 2 Photography Plans give you both versions of Lightroom and also Photoshop. You can choose 20GB or 1 TB of storage (for backing up images with Classic, or for storing images with the cloud based version).
- The Lightroom Plan might be all you need if you're not going to use folders or hard drives for image storage and/or you prefer not to work on a computer.
LEARNING LIGHTROOM
As of this writing we offer 3 Lightroom classes (listed below) which cover the Lightroom Classic version only.
This Link will take you to all of our Editing/Postprocessing classes
.
- Lightroom In A Day – Instructor Corey Hilz
Offered monthly.
Learn the 2 most important modules of Lightroom Classic in a single day; the Library and the Develop modules. This class will get you up and running with the program and give you a foundation to build on.
- Lightroom Library Module in Depth – Instructor Marie Joabar
Offered every 6 to 8 weeks
In this class we look at the Library module more in depth and cover ALL of the features it offers.
- Lightroom Develop Module in Depth – Instructor Marie Joabar
Offered every 4 to 6 weeks
In this class we look at the Develop module more in depth and cover just about all of the features it offers.
When attending one of these classes, you'll need to make sure you have the Photography plan that gives you the right program; CLASSIC. (See image below)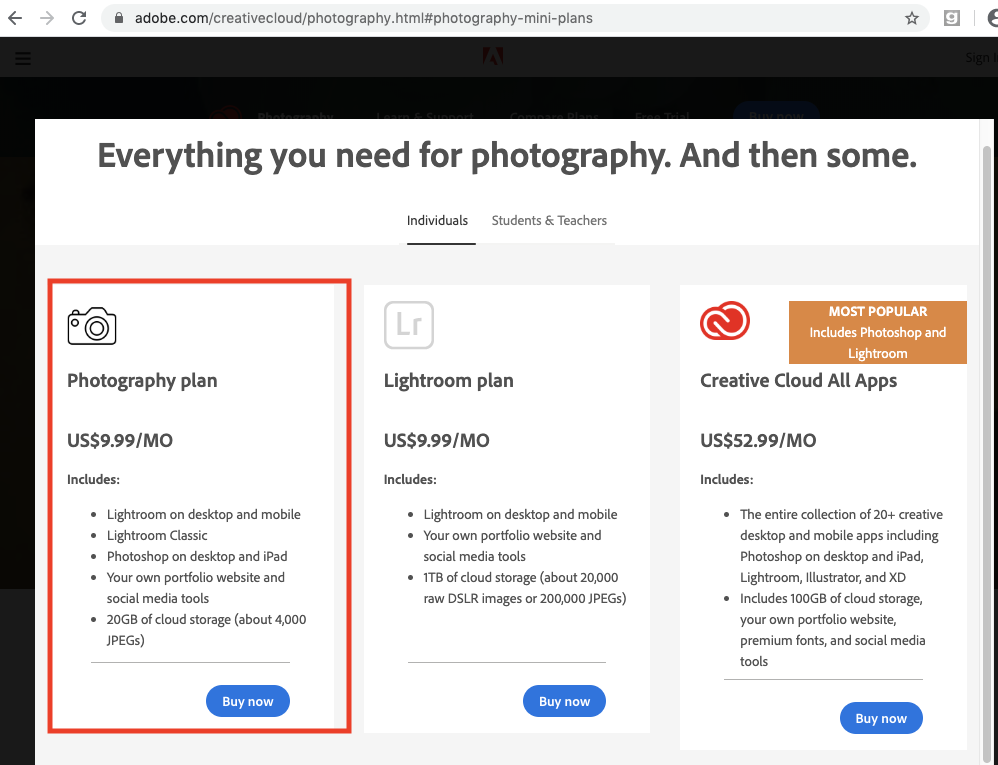 (When attending one of our classes) after you sign up for the plan, you'll download and install Lightroom Classic. Don't install the other one. (See image below)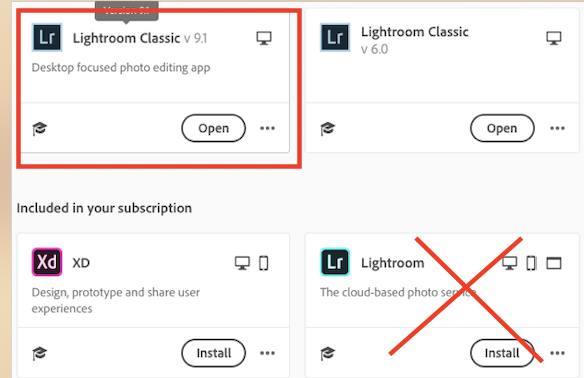 We hope this helps give you a better understanding of your options when choosing Lightroom. If you have been using Lightroom for some time, we hope this spells out what the newer version offers and how it is different.