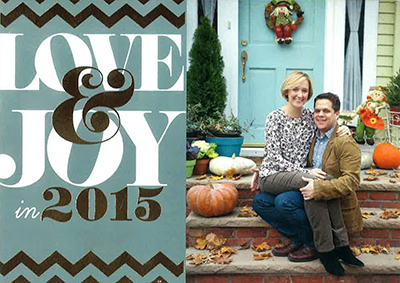 Each year at the same time, everyone in your household gets a little anxious knowing the dreaded holiday photo is coming up. You say, "Cheese!" and they stare at you blank faced from their spot on the sofa. But why not change it up this year and turn it into something fun?
As a professional photographer, I have taken countless pictures specifically for people's holiday cards and with a few tips, you too can take photos that are picture perfect while at the same time making it an anticipated tradition.
1. Pick A Location
This is important because it's going to be the backdrop for your family. I would suggest something outdoors as natural light is always more pleasing than artificial. Try heading out to a wooded park during peak foliage, or maybe gather everyone on your holiday decorated front porch or yard. Is the season's first snowfall coming your way? Dress warm and capture your family making a snowman or sledding! Anything that encourages a family activity where you happen to be taking photos is sure to be more fun for everyone.
2. Shoot During The Golden Hour
Aim for shooting in the early morning or later afternoon in order to get the best golden and diffused light. Pictures taken in the bright mid afternoon sun can cause squinting and harsh shadows on faces. If you have children, aim for the morning. Kids are almost always more cooperative at the start of the day. Take advantage of that opportunity for fresh faces and upbeat moods.
3. Light And Exposure
Consider the "look" of your photo and how you want to work with the light. You can shoot with the light coming from behind you so your family and the background will have uniform lighting. Depending on the location, this might be challenging so another option is to have the light behind your family members. In order to have them not show as a silhouette, expose for the beautiful background and then just light your family with your external flash**. You might even be able to avoid the flash altogether and instead use a large reflector to bounce light onto them. Zoom in on Playback and make sure you see those smiling faces with everyone's eyes open!
*ISOs of 100, 200 or 400 should work fine. A shutter speed of 1/60 to 1/125 is good as long as people aren't too fussy. For apertures, try f4.5, 5.6 or 8 depending on the number of people and their arrangement in the composition.
4. Be Mindful Of Your Frame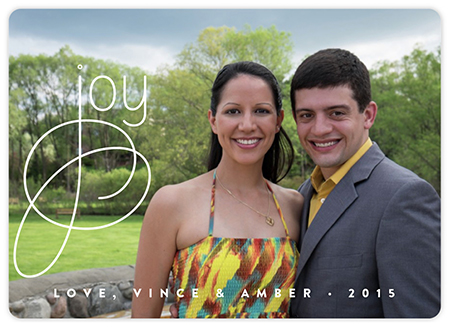 When composing, think about keeping some blank space on either side of your subjects and a little above them too. With a lot of card designs, the text can sometimes overlay on the photo so try to keep a third of the frame free of faces or other important elements. You can also browse designs online beforehand so you know what kind of shot to take.
5. Think About The Outfits
Coordinating outfits can be tough but there are a few steadfast rules that help in photos. Try not to wear crazy prints or patterns as they will distract the viewer's eye. Also try to avoid wearing white which might make you look bigger than you are, or black so your body does not become a void in the image. If you are doing a full family photo, think about complimentary colors but try not to be too 'matchy'; think more neutral tones, less neon or bright colors. Make sure the clothes are comfortable and not too dressy- your spouse and kids will appreciate it!
6. Do It Yourself Or Professional?

If you're going to be the one taking the photos and you want to be in them, use a tripod with a remote trigger. Set up your family in the frame, check your focus and move on into your spot. A camera self-timer will also work but with a remote trigger, you don't have to worry about running and making it to your mark in 10 seconds or less.
Another sure way to get a great photo of everyone, yourself included, is to hire a professional. A photographer in your area will know some great locations for photo shoots and will anticipate any problems that could arise, such as unhappy children. The photographer will also be able to engage you and your family in a way that makes everyone feel comfortable, leading to a more natural looking photo. Nobody likes a stiff and posed image, a professional will be able to get more candid shots that could surprise you.
7. Include Your Furry Friends
It's only natural to want to include our furry feline or canine family members in holiday photos. But posing a pet for a photo can be easier said than done. Make sure to just be patient during the process. Here are some other tips for including our pets:
- Pets can sometimes be spooked by the look or the sounds that your camera makes. First, try and get them comfortable with the camera and its noises. You can even give them a treat every time you hit the shutter to help associate the camera with a positive experience.
- Try to minimize distractions. Limit props such as hats or clothes, these usually put your pet in a sour mood.
- Just like kids, animals have a short attention span. It's best to give them some camera time for 5 to10 minutes and if you notice them feeling antsy, take them out to play to get their energy level down.
- Use the proper attention getter. If your pet has a favorite treat or squeaky toy, use it to your advantage! Have a friend hold their beloved toy right next to the camera lens to get their attention to ensure a good eye line and that your pet isn't looking elsewhere.
And of course- reward them after! Lots of playtime and yummy treats will keep them happy.
8. Plan The Time And Take A Lot Of Photos
Tell your family members you'll need around 30 to 60 minutes so they know that ahead of time and won't try to rush you. You'll want the time to try a couple locations and to mix up posed shots with silly and goofy shots too. Those unexpected images may just turn out to be your favorites.
Nobody gets it on their first shot so take a lot of photos! Finding a photo where everyone is smiling and not blinking is a challenge and having those extra images when you are editing will become a godsend.
9. Have Fun!
Make sure to enjoy the quality time and create some memories for years to come. Try to make the session comfortable and anxiety free, your family will reflect your behavior so if you are at ease and happy, they will be too! A special brunch or breakfast afterwards can give everyone the motivation to work through the shoot and can become a fun part of the holiday card photo shoot tradition.
10. Where To Order
Once you've chosen your favorite photo, think of where you'll have your cards printed. I'm fond of the designs at Minted, they are fresh and modern but still fun! Another company I like is Pinhole Press . Also consider your local camera store. Visit their websites to see if they offer this service and then drop by to browse layouts and the card products they offer.
As we start receiving our Holiday cards in the mail, we'll notice that some cards are much more successful than others and now we'll know why.