In recognition of Black History Month we want to share these three websites which shine on African American Photographers both past and present. Through their lens they speak volumes and their visual stories continue to be relevant now… especially now.
"From 1973 to 1980, a group of African American artists in New York City published The Black Photographers Annual. The idea emerged from the collective of African American photographers known as the Kamoinge Workshop (Kamoinge, from the Kikuyu language of Kenya, means "to work together"). The forty-nine artists featured in the book, however, far exceeded the boundaries of the collective."
This is an incredible collection! On the site you can click on the various volumes of the collection and view the entire volume, one page at a time, artist by artist.
Also, on the site are links to related stories, collections, and videos.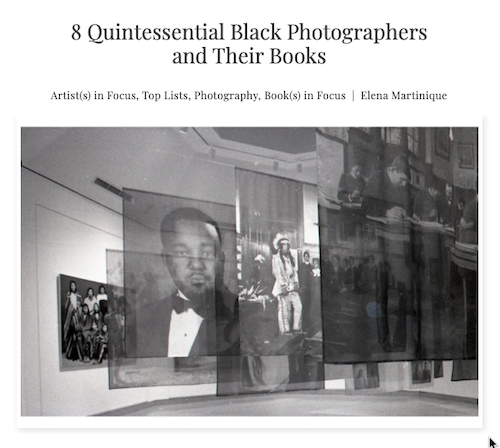 To quote Elena Martinique, "Here, we pay tribute to a thriving field of African American photography. Many of the Black photographers on our list saw photography as a tool for social change, seeking to communicate the African American experience and culture and expand how it is seen and understood. Through the work of these photographers, we can witness the rage, the sadness, the pain, the beauty, the pride and power of belonging to a community that has been antagonized through America's history."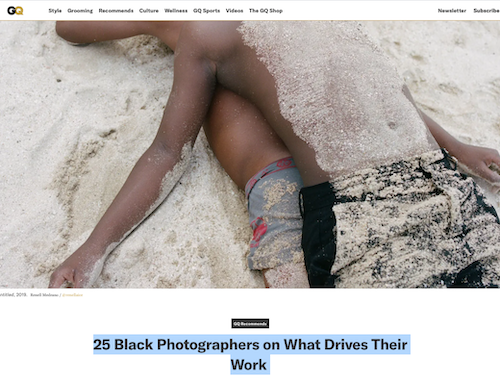 "The Black Lives Matter protests across the U.S. have created reams of indelible imagery, much of it captured by Black photographers. Simultaneously, projects like See in Black and Reframing the Future have centered the work of—as well as the need to support—Black photographers. Through their lenses we can witness the rage, the sadness, the pain, the beauty, the power, and the triumph of living in skin that's been so undervalued and antagonized through America's history. In reaching out to 25 Black photographers (including several who have shot for GQ), we wanted to not only see what they see, but to hear—in their words—what they're working so hard to say."