What an amazing week we had on our first international photography workshop exploring Tuscany! With a group of 9 workshop participants, we set off to capture exciting images and all came home with memory cards filled.
Our base location was just 20 minutes south of Siena at the Dievole Winery and Resort. With luxurious accommodations and gorgeous scenery no matter where you looked, it only took a second to fall in love with the place. Sunrise could be captured right out our front doors with views overlooking the vineyards and the distant mountains.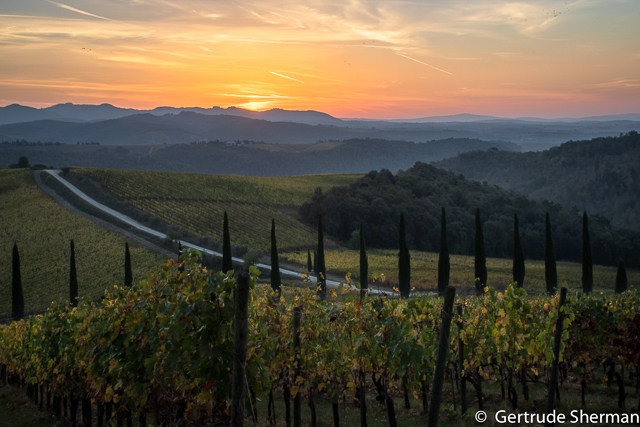 The workshop was organized by Il Chiostro as their Autumn Arts Festival and participants could choose to take the Photography, Painting or Cooking workshop. In all, it was a group of about 35 people. On one morning, people could switch up their workshop and try another and most of the photographers tried painting. They all came away with their very own masterpiece of a beautiful landscape scene of a rustic farm house and vineyards framed with cypress trees.
The food was amazing; an Italian style breakfast buffet, and a sit-down dinner complete with endless bottles or red and white wine were provided every day at Dievole. I don't think there is one person who didn't come home a few pounds heavier.
Each day we'd travel to a nearby village or hill town and each presented unique photo opps. Some of the highlights were:
The medieval town of Siena where we enjoyed the Duomo (cathedral) and museums. Although they had their Palio (Sienese horse race) in the town square, we avoided it because of the huge crowds, yet a few captured some great shots of the rehearsal race.
San Gimignano was another hill town that we all fell in love with. Great for people shots, old town charm, wonderful shopping opportunities and delicious restaurants… a fun day was spent discovering just why people put San Gimignano at the top of the must-see towns.
Other hill towns such as Peinza and Radda provided many photos opps and amazing views to the landscape below filled with vineyards and old Italian farm houses.
I think our favorite photo session was shooting the iconic scenery of the Val d'Orca on the way home from Pienza. Featuring soft rolling hills sprinkled with old chapels, farmhouses and stands of cypress trees, it was a "must have" image and it was great fun shooting it.
The last evening was spent showing off our photos in a presentation to the Cooking and Painting workshop participants and the oohs and aahs were humbling. As a workshop leader, I loved seeing everyone's favorite images and was so happy for each of them to come away with such strong shots! It's also interesting to see how each person captures such a unique image even though they might have been standing right next to each other.
We left Italy with a collection of beautiful images and all had a great time learning new photography skills. We also took with us the joy of having met new people, the pleasure of drinking local Italian wine and sampling the region's olive oil and overall, just having had a grand time.
I'm so fortunate to have been asked to by Il Chiostro to lead this workshop and I just loved the time spent with my photography group. In fact, they are the reason I loved it so much! They're such wonderful people, they were all so supportive of each other and we enjoyed ­­great camaraderie. I have them to thank for the amazing week exploring Tuscany on this workshop­­­­­!!
Look for this workshop to be offered again in 2019, it was just too much fun not to do it again.