It's so exciting to see the area come to life with all the spring color. This is the perfect time to plan some beautiful family, engagement, or portrait shots, wide landscape shots or just spend your time getting lost in flower and garden photography.
Here are some of our favorite outdoor spots for photography in the Washington, DC area.
District of Columbia
The Smithsonian Gardens along the Mall in the heart of the city offers unique gardens (Enid Haupt Gardens, Ripley Gardens).
The National Arboretum in DC. The Arboretum is so large you'll want to visit it more than once. The Azalea garden in springtime is just stunning, but you'll want to visit throughout the year, each season offers something to experience. By the way, for any of you gardeners out there, their annual plant sale is on 4/30/22.
The area around the Capitol building and the outdoor gardens at the U.S. Botanical Gardens offer beautiful plantings and landscaping.
The Bishop's Garden (managed by All Hallows Guild) at the National Cathedral is lovely and offers a peaceful escape as you explore it. Don't miss the trail through Olmsted Woods while you're there.
Dumbarton Oaks Gardens in Georgetown is a special place. It has several gardens settings and each is different from the others. Open only in the afternoons, plan to visit more than once and throughout the year as there is always something special blooming. You'll find plenty of nooks and crannies to sit and reflect among the gardens.
Hillwood Estate & Gardens was the home of Marjorie Merriweather Post and sits on 25 acres overlooking Rock Creek Park. A must see for any garden lover.
The Franciscan Monastery has incredible tulip beds and a lovely garden area to stroll through as well.
Maryland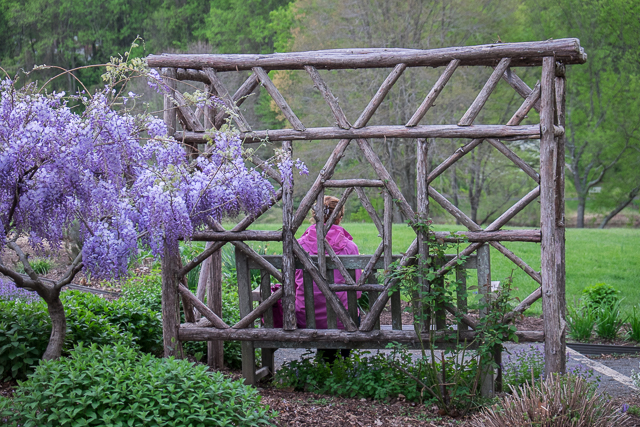 Brookside Gardens in Wheaton, MD is one of our favorites. With 50 acres to explore, 2 conservatories and a gift shop, you'll have visit more than once to see it all. Throughout the year Brookside will never disappoint!
Brighton Dam Azalea Garden in MD is a must see during Azaleas season in April. It's worth the drive to visit and photograph.
Virginia
Greenspring Gardens in Alexandria VA is easy to explore. One side offers a pond with a trail beside it and the other offers several gardens. In the summer time, the area around the Gazebo is planted with flowers that attract hummingbirds.
The Netherland Carillion at Arlington Cemetery is filled with tulips in the springtime and provides a fantastic view of the DC skyline.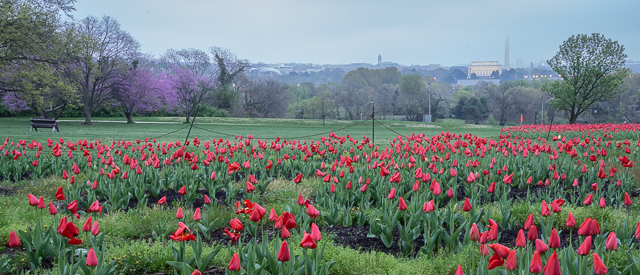 Meadowlark Gardens in Vienna, VA offers 95 acres to explore throughout the year. You'll find ponds, gazebos, a Korean Bell collection, and of course the beautifully landscaped gardens.
Manassas Battlefield Bluebells, VA. Lots of civil war history here as well as fields of bluebell blooming right now.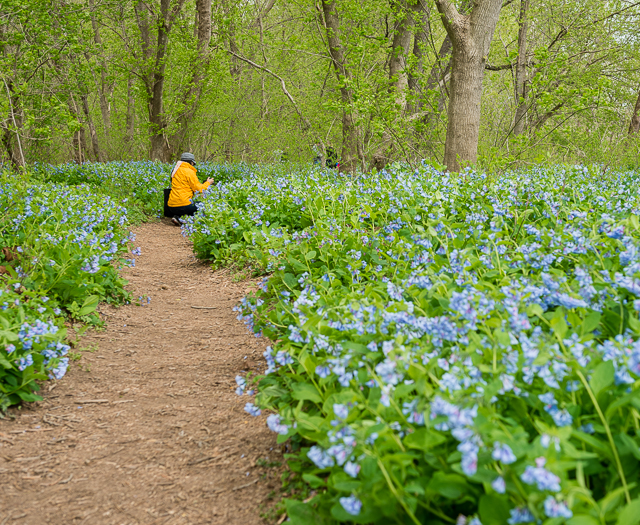 River Bend Park (bluebell path) This park is just past the Great Falls Park in VA and offers trails through the woods along the Potomac River. Filled with wildflowers and bluebells, spring is a perfect time to visit.
Burnside Farm in Nokesville VA offers planted fields of tulips. Watch for their Sunflowers in July.
Stroll thru Old Town Alexandria and find quaint homes decked out with spring decor and colorful planters framing.
A bit further out, you'll find in plenty of spring wildflowers on any of the trails in Shenandoah National Park.
Wherever your adventure takes you this spring, amazing photos await, explore and enjoy!
If we left any great spots off the list, please send us an email and we'll include it here. (info@capitalphotographycenter.com)
Note: some parks may require a permit to photograph portraits so it's a good idea to check the websites first.