Summer and vacation season are here so whether you're spending time poolside or traveling, throw a photography book in your bag to pick up a tip or two or just for a little inspiration.
Here are some of our favorites. Whether you're an amateur or professional, photograph people or landscapes, we hope you find some of these books worth the read.
HOW TO Books
THE SECRETS TO AMAZING PHOTO COMPOSITIONS: 83 COMPOSITION TOOL FROM THE MASTERS
By Mark Silber Published by Mango
No matter what kind of camera or smartphone you're using, you can take your photography to the next level by learning composition tools and secrets known to the masters of the art. There's a common misconception that composition is an ambiguous talent and only certain people have a natural gift for it, but the truth is that composition involves a set of skills that you can master.

What you'll learn from this book: - How to take better photographs today by learning the essential tools to composition - Quick and easy to follow "recipes" for composition at your fingertips - The secrets of composition from the masters of classical art and photography - Various tips and strategies for using photos to tell a visual story, and examples to making these tools your own.
THE VISUAL TOOLBOX - 60 Lessons for Stronger Photographs

By David Duchemin Published by New Riders
This book is photographer David duChemin's curriculum for learning not just how to use a camera–but how to make stronger photographs. He has developed 60 lessons, each one a stepping stone to becoming more proficient with the tools of this art, and the means to create deeper visual experiences with your images. David introduces you to the technical side of the craft but quickly moves on to composition, the creative process, and the principles that have always been responsible for making great photographs; he shows you these principles and invites you to play with them, turn them on their heads, and try a different approach to create beautiful, compelling images with your camera.

Features action-oriented micro-chapters designed to improve your photography immediately. - Includes explanations of 60 concepts with an assignment for nearly every chapter. - Covers such topics as balance, using negative space, exploring color contrast, waiting for the moment, learning to incorporate mood and motion, and much more.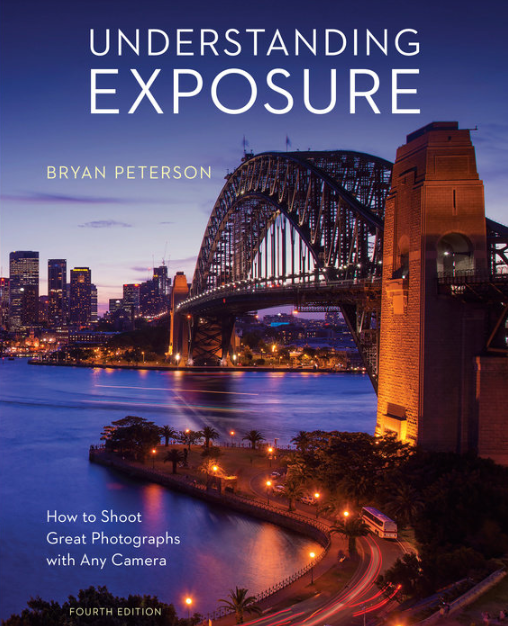 UNDERSTANDING EXPOSURE: How To Shoot Great Photographs With Any Camera (Fourth Edition)
By Bryan Peterson. Published by Amphoto Books
Understanding Exposure has taught generations of photographers how to shoot the images they want by demystifying the complex concepts of exposure in photography. In this newly updated edition, veteran photographer Bryan Peterson explains the fundamentals of light, aperture, and shutter speed and how they interact with and influence one another. With an emphasis on finding the right exposure even in tricky situations, Understanding Exposure shows you how to get (or lose) sharpness and contrast in images, freeze action, and take the best meter readings, while also exploring filters, flash, and light.

With all new images, as well as an expanded section on flash, tips for using colored gels, and advice on shooting star trails, this revised edition will clarify exposure for photographers of all levels.
LANDSCAPE PHOTOGRAPHY: FROM SNAPSHOTS TO GREAT SHOTS
By Rob Sheppard. Published by Peachpit Press

For photographers interested in landscape photography, this guide will help you conquer the fundamentals and take amazing outdoor shots. Pro photographer Rob Sheppard starts with the basics–composition, light, and perspective–and describes how to connect with your scene. He covers all the key camera features that affect your image, including how changing focal lengths alters your perspective and the aperture's direct correlation with depth of field. Once you've captured those shots, Rob takes you through simple post-processing steps in Lightroom, Photoshop, and Photoshop Elements.

This guide is for beginning-to-intermediate digital photographers to understand the basics and bring their own unique artistic expression to landscapes and outdoor shooting.
UNDERSTANDING PORTRAIT PHOTOGRAPHY - How To Shoot Great Pictures of People Anywhere

By Bryan Peterson. Published by Watson-Guptill
Great portraits go beyond a mere record of a face. They reveal one of the millions of intimate human moments that make up a life. In Understanding Portrait Photography, renowned photographer Bryan Peterson shows how to spot those "aha!" moments and capture them forever. Rather than relying on pure luck and chance to catch those moments, Peterson's approach explains what makes a photo memorable, how to spot the universal themes that everyone can identify with, and how to use lighting, setting, and exposure to reveal the wonder and joy of everyday moments.

This updated edition includes new sections on capturing the perfect selfie, how to photograph in foreign territory while being sensitive to cultures and customs, how to master portraiture on an iPhone, and the role of Photoshop in portraiture. Now with brand-new photography, Understanding Portrait Photography makes it easy to create indelible memories with light and shadow.
STREET PHOTOGRAPHY ASSIGNMENTS: 75 REASONS TO HIT THE STREETS AND LEARN
By Valerie Jardin. Published by Rocky Nook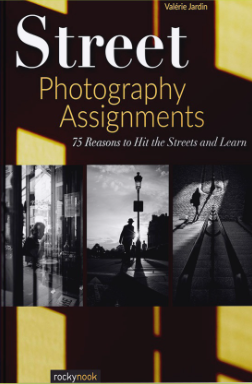 ...Street photography has experienced a remarkable resurgence in recent years. You can be roaming the streets of a classic urban environment (New York, Paris, Tokyo) or on a simple photo walk around a quiet neighborhood―it has never been more popular to pursue the art of capturing those candid, fleeting moments that happen throughout the day, of freezing a moment in time and transforming the ordinary into an extraordinary photograph.
But learning to see light and moment, to make quick decisions, and to nail a photographic composition are all crucial skills you must master in order to become a good street photographer. Photographer, instructor, and author Valerie Jardin has been teaching photographers how to take better photographs for years, and in Street Photography Assignments: 75 Reasons to Hit the Streets and Learn, she provides dozens of prompts for you to practice.
LIGHT ― SCIENCE & MAGIC: AN INTRODUCTION TO PHOTOGRAPHIC LIGHTING, 6th Edition

By Fil Hunter, Steven Biver, Paul Fuqua, Robin Reid. Published by Routledge
Photographic lighting is a topic that will never go out of style, no matter how sophisticated cameras and other technology get. Even with the most high-tech gear, photographers still need to put a lot of thought and vision into lighting their photographs in order to get great results. Mastering this key skill has the power to dramatically and quickly improve your photographs as well as your efficiency.

This book provides you with a comprehensive theory of the nature and principles of light, with examples and instructions for practical application. Featuring photographs, diagrams, and step-by-step instructions, this book speaks to photographers of varying levels. It provides invaluable information on how to light the most difficult subjects, such as surfaces, metal, glass, liquids, extremes (black-on-black and white-on-white), and portraits.
DOCUMENTARY & INSPIRATION BOOKS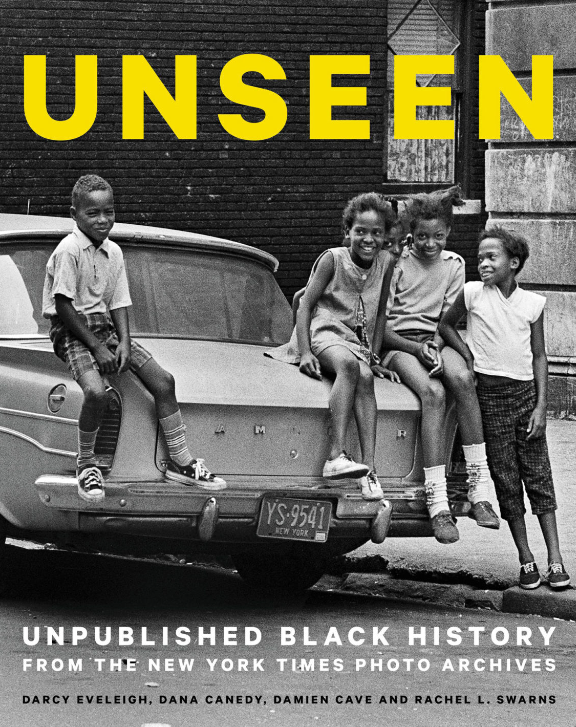 UNSEEN - Unpublished Black History From the New York Times Photo Archives
By Dana Canedy, Darcy Eveleigh, Damien Cave and Rachel L. Swarns
Published by Black Dog & Leventhal
Hundreds of stunning images from black history have long been buried in The New York Times archives. None of them were published by The Times until recently. UNSEEN uncovers these never-before published photographs and tells the stories behind them.
NATIONAL GEOGRAPHIC THE PHOTO ARK: ONE MAN'S QUEST TO DOCUMENT THE WORLD'S ANIMALS
By Joel Sartore. Published by National Geographic.
This book has been around for a while but is listed on Amazon right now for just $19.

The lush and unique photography in this book represents National Geographic's Photo Ark, a major initiative and lifelong project by photographer Joel Sartore to make portraits of the world's animals—especially those that are endangered. His powerful message, conveyed with humor, compassion, and art: to know these animals is to save them. This book showcases his animal portraits: from tiny to mammoth, from the Florida grasshopper sparrow to the greater one-horned rhinoceros. Paired with the eloquent prose of veteran wildlife writer Douglas Chadwick, and an inspiring foreword from Harrison Ford, this book presents a thought-provoking argument for saving all the species of our planet

THE NEW ART OF PHOTOGRAPHING NATURE: AN UPDATED GUIDE TO COMPOSING STUNNING IMAGES OF ANIMALS, NATURE, AND LANDSCAPES
By Art Wolf and Martha Hill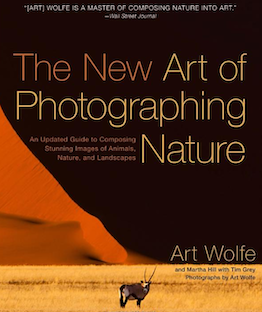 In this fully revised edition, master photographer Art Wolfe and former Audubon photo editor Martha Hill team up to explain the art of composing images of enduring beauty. Against a backdrop of more than 250 photographs of nature, wildlife, and landscapes, they share insights and advice about what works and what doesn't, and how small changes can take an image from ordinary to extraordinary. Throughout, all-new tips from digital imaging expert Tim Grey show readers how to make the most of digital technology, whether by choosing the right color space, understanding sensor size, or removing distracting elements in post-processing. The result is an invaluable collection of expert advice updated for the modern age.

LOCAL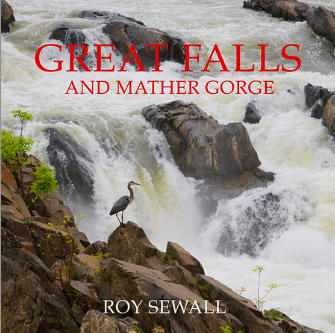 GREAT FALLS AND MATHER GORGE
By CPC instructor, Roy Sewall
"Great Falls and Mather Gorge" is the definitive, in-depth look at the spectacular Great Falls area on the Potomac River, including the two adjacent National Parks: Chesapeake and Ohio Canal National Historical Park in Maryland and Great Falls Park in Virginia. What makes the book unique is that it concentrates on just one square mile - a half-mile wide swath along two miles of the river. This wilderness area is a diverse wonderland of river scenery, complete with rare plant life, wildlife, historic structures, world-class whitewater paddling, rock-climbing, and other recreational activities. All of this is easily accessible to people in the Washington, D.C. metropolitan area. Also see Roy's first book, OUR POTOMAC. Whether you are a long-time visitor to Great Falls or a newcomer, the photographs, map, text, and captions in both these books will educate, surprise, and inspire you.
Enjoy Your Summer and Happy Reading!
Note: The descriptions listed with the books are provided by the publisher.