Sometimes with our photography we loose momentum or find ourselves in a rut lacking creativity or motivation, or worse, both.
Other times, we need to commit to practice a particular skill but lack the discipline to do so letting other things in our lives take precedent.
These are the best times to start a personal project. With a self-assigned project, we might have more diligence to photograph regularly with the goal to move past our comfort zone, get stronger at a skill, or seek out particular subjects that we enjoy photographing.
No matter the reason, you'll find a personal project will definitely improve your photography so why not get started and plan yours now.
Before you start:
• Decide on a subject or theme (this might be the hardest part).
- Look for your weakest skill and make a project that will have you working with that. Over time, that skill will improve and may even become your strongest.
- Make a project for a subject you enjoy shooting, for example if you enjoy photographing abstracts, why not make your project around that?
• Consider a realistic timeline, will you do a 365 Days project, a 52 Weeks project, or something where time is not the point but instead a number of images or a completed body of work?
• Will you share your project as you go or simply share the final project? Sharing, especially socially, can give you feedback and support so it can be helpful to keep you motivated and moving along.
Here are some ideas for topics… make a project around night scenes, cityscapes, landscapes, people & street scenes, black & white, portraits, flowers, motion, color, neighborhoods, abstracts, family, urban critters, wide angle shots only, 50mm only, etc. The list is endless so pick a topic for motivation or one that will help you hone your skills and get started.
Many photographers do personal projects, here are what a few of our instructors did. Check out their stories and get inspired…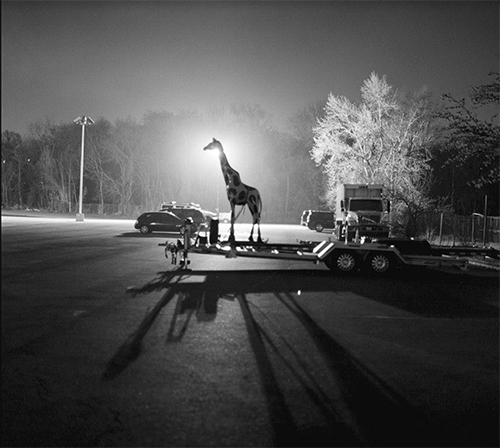 ERIKA NIZBORSKI'S project was photographing her town of Hyattsville.
"After moving to Hyattsville in 2011 and restoring my home I realized that the only time I was taking pictures was for paid gigs. I felt like I had hit a creative photo block. Spare time was not something I really had so I decided to start photographing right in my backyard. If you can't take photos at home, where can you take them?
My goal with The Hyattsville Project was to get out of my creative slump, to get to know my neighborhood, and to rekindle my passion for black and white film photography. Many people ask me, why film? I chose to shoot this project exclusively on black and white film because it helps me to slow down. In the digital age we can take as many photos as we want but with my medium format film camera I am limited to just 12 shots per roll. I take my time to compose every shot and it's helped me in my professional work too.
It's been over 4 years since I started working on my personal project and I don't see any end in sight. My neighborhood is ever changing, so it doesn't get boring and it's always there so I have no excuse"
JIM DARLING completed a project where he photographed 100 street portraits in a 2 year period. It's one of his favorite stories to tell because it is how he found his calling as a photographer after almost 20 years as a graphic designer.
"I found the 100 Strangers Project on Flickr in May of 2008 a few weeks after I was laid off from my graphic design job that I'd held for 4 years. I felt like it was a great time to focus on something new and inspiring. Prior to the layoff I had been slowly getting back into photography after many years of not even owning a camera.
Around this time social media was just starting to really take off. Flickr was the only place where I spent my time online really as there was no Instagram and I was not yet on Facebook. As soon as I discovered the Project I knew I was going to it! It was exactly the kind of photography I enjoyed in high school and college - photographing interesting strangers and getting to knowing a little about them. With this project I now had a reason to take the photos and goal to strive for. I never gave myself a time limit but ended up finishing in March of 2010.
The project was the spring board to me switching careers from design to photography. Because of my 100 Stranger photos and the increase popularity of social media, my work was getting noticed by more and more people. I slowly started to get jobs shooting events and portraits and the occasional wedding. I also owe a lot to the graphic design community as I was now getting photography work through my connections and former peers.
At the time (and still today), there were many many people doing it around the world at the same time. You would include your images to the official Group and the see all the other photos people were taking. I soon joined Facebook and Twitter and shared my work socially as I went along and gained followers, supporters and friends along the way. It took almost 2 years to complete and the journey was part of the story.
I often say the best part of the project was that I did for me. There really wasn't a right or wrong way to do it. I just knew I HAD to do it. And I knew that if I stuck with it I would keep learning. And 6 years later I'm still learning."


TIM COOPER did a 365 iPhone project which as the name indicates means he shot every day with his iPhone.
"Projects are a great way of keeping yourself focused on a goal, as well as providing a framework for practice. As a professional photographer I often spend more time behind the computer rather than in front of the camera. I chose a 365 day iPhone project to force myself to take pictures everyday. Making pictures daily provides a host of benefits including honing your composition skills and increasing your awareness of light and moment. I highly recommend taking on any project that sharpens your photographic skill set."
With so much of the summer left, we hope you'll find the time and more importantly, the motivation, to start, enjoy, and learn from your own personal project.