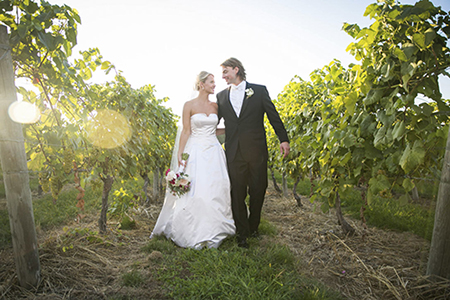 You find yourself on a beautiful day at a wedding for your favorite niece and one of the first things you notice when you arrive is the team of wedding photographers covering in the event. Dressed all in black and handling some expensive gear, you think to yourself, "maybe this is a job I can do." You're pretty comfortable with your camera and you are always the 'designated photographer' at family get-togethers. So why not give it a try?
It seems like an easy enough gig- one day of work, everyone is happy and smiling and you are making good money. Yet like any profession, there are pros and cons. It's a rewarding yet difficult job and not everyone is cut out for it so before you jump in, consider what it takes.
1. You Must Love People
This may seem like an obvious statement but weddings are all about people- the couple of course and their families and friends. You'll be thrown into a day full of people you've never met and you have to tell their story with your images. As much as you try to fade into the background to capture real moments, people will always be looking at you or asking you questions.
* You have to be comfortable talking to a variety of people from many different backgrounds. Being polite and friendly go a long way but you also must know how to jump right in front of the action, ask people to politely move out of the way to get a shot and direct people without sounding short or harsh.
* You'll not only develop relationships with couples and their guests but other vendors at the wedding like florists, planners, decorators, etc. Building on these connections is important because of a lot of the business is referral based.
* If you don't treat a client well or are hard to work with, word will get around and your business can suffer. That's why it's critical to always be positive, treat every person with respect and be 100% at every event. With weddings, your people skills can be just as important as your photographic skills.
2. Know Your Gear Inside and Out and Be Ready to Invest
The camera doesn't make the photographer - the photographer makes the camera. However, in order to capture the day in the best way possible, it is important to have the right equipment and to know your camera like the back of your hand.
Below is a list of the essentials. Your gear can add up to some serious money but look at it as an investment in your future.
1. A full frame DSLR camera (and a backup body!)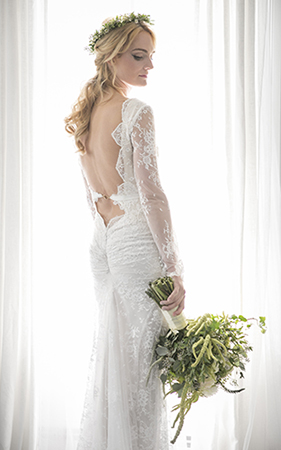 2. Wide aperture lenses such as the 24-70 f/2.8 and 70-200 f/2.8. The third lens varies upon taste but I use a 50mm f/1.2, mainly for detail shots. Others include a 35mm or a 85mm, which are great for portraits.
3. Flash units, preferably 2 to 3, and a flash bracket to get it off of your camera.
4. Hi-speed AND high capacity memory cards, preferably CF cards as they capture data much faster than SD cards. 32GB cards or greater may let you capture an entire wedding but many pros prefer to use a number of smaller cards to avoid putting all their eggs in one basket.
5. Extra batteries, at least 2 fully charged backups for your camera and plenty for your flashes.
6. A tripod or monopod- there's no better way to ensure crisp images when you're relying on natural light and have to shoot at slow shutter speeds.
7. Large external hard-drives to store your images, a good starting point would be a 2TB hard-drive or larger.
8. Depending on your shooting style, you may want to include a small lighting kit or monolight AC units for the formal portraits or to light up a dance floor.
9. And of course, a bag or suitcase to transport all of your gear in.
3. Be Comfortable Wearing Different Hats
When running your own wedding photography business, it's important to realize that you are not only the photographer, but also the bookkeeper, the accountant, the marketing department, the graphic designer, the customer service department and the secretary.
* You should be comfortable corresponding with current and future clients, negotiating contracts, handling schedules, setting the right prices and most importantly, marketing yourself. You have to believe in yourself and your work, otherwise no one else will!
* It's a ton of responsibility and is really more than a full time job. Once your business grows, you may be able to hire people to lighten your workload but to start off, it's all on you.
4. Understand That You Are Your Own Boss
Starting your own business is great because you set the amount of work you want, you can choose which clients you want to work with and you don't have to report to anyone. But with all of these great advantages it's important to make sure you are disciplined and motivated.

* Emails can easily start piling up and weddings can go unedited if you don't keep on top of your schedule. You won't have someone cracking the whip behind you so you have to set a schedule that will allow you to get everything done.
* This is easier to do for some and harder for others- look inward and question whether this type of work lifestyle would be best for you.
5. Have A Unique Style
One of the most important things to think about is, what is going to be different and unique about your work versus the thousands of photographers that are already out there. How will I stand out?
I would first decide on which style you like to shoot in.
* You could be more of a documentary photographer- instead of a series of posed photos, you capture candid or spontaneous pictures of people, decor and the action. This style is all about capturing the moments exactly as they happen and telling a story.
* As a classic/traditional style photographer (think your parents' wedding album) you capture photos that are more formal and posed. You direct the subjects, their body alignment, the attire, the timing and the background. You like less spontaneous 'action shots.'
* As a fine art wedding style photographer, you prefer to find artistic ways to photograph the couple and details and want the artistic license to infuse your particular point of view into the photographs.
These are just a few of the genres out there and of course you don't have to fit into just one bucket. You may like aspects of all of these styles but what is critical is to understand is that your main shooting style should come across in your portfolio so you can market yourself to the right couples.
6. Know Your Limits
When covering a wedding day, you can be working from 9:00 in the morning until 11:00 at night depending on your contract. Can you physically be on your feet all day, carrying 15+ pounds of gear around your neck/on your back, crouching low to the ground and stretching to your tiptoes?
* Weddings can really take a toll on your body and it only gets worse as you start booking more weddings and have less time to recuperate. Even at the ripe age of 25, I always wake up the day after a wedding with a sore back, achy feet and a stiff 'trigger finger'. It's important to know your physical limits and that you may not be able to handle this type of work every week.
* On the mental side, when you take photos you have to make a lot of decisions and on the wedding day, you have to make them very quickly and with sustained attention. Sometimes you will have to be 100% focused for up to 14 hours straight so it's important to make sure you have the mental stamina.
7. Try Working As An Assistant
One of the best ways to decide if wedding photography is right for you is to work as an assistant or second shooter to a veteran photographer.
* You'll be introduced to what is required for wedding day coverage, such as interacting with potentially stressed clients and capturing the details of a couple's special day. You'll gain experience with managing a wedding business, finding new clients, determining prices and writing contracts and more. It also helps you decide if this is the right profession for you without making large life changes or financial commitments.

8. The Rewards
Wedding photography is a tough business but it also one of the most rewarding. You get to witness the love between two people and the joining of their families. The inner romantic in me loves the emotion, the romance and the tears the day produces. It's a momentous occasion and you have the privilege of capturing every nuance.
Another great thing about wedding photography is its permanence. Not many photographers can guarantee that the work they produce will be looked at in 50 years but wedding photographers can. The photos that you produce for your clients become treasured family heirlooms and you have the ability to impact people for a very long time.
And since you're in charge, you can do whatever inspires you. That sort of freedom is what many creatives need to explore and create something original.