It's prime holiday shopping season and whether you're buying a gift for a loved one or for yourself, visiting your local camera store can be a huge help.
Get advice from those in the know and be assured they'll support you long after the sale. They'll even help the person you gifted when the holidays are over.
So if you're thinking of getting your wife her first digital SLR but not sure which to choose or you're looking for a tripod for your son but are overwhelmed with the options or simply need a few stocking stuffers, let the folks at your local camera store help.
Already know what you want and don't want to leave the house? No problem! Most of these stores offer online shopping and offer free shipping. So this Holiday Season, keep it local and support your nearby camera stores. Find one near you listed below.
District Camera
Full service camera stores family owned since 1978.
VA Location:
6025 Burke Centre Pkwy, Burke, VA 22015
Phone:
(703) 250-5555
Hours:
Mon-Thurs 10am-7pm Fri/Sat 10-6pm Open Sundays 12-4pm from Black Friday thru Christmas
Website:
https://www.districtcamera.com/
DC Location:
1225 I St NW, Washington, DC 20005
Phone:
(202) 483-0090
Hours:
Mon-Fri 9:30am-6pm Saturdays 10am-5pm
Website:
https://www.districtcamera.com/
What They Offer
Both stores carry every major photographic line (Nikon, Canon, Sony, Fuji, Pentax and more). Their knowledgeable staff are very customer service oriented taking time and care to meet your needs in a friendly and professional environment.
- Take advantage of the many onsite services they offer. Visit them for repairs and rentals, as well as online digital printing, custom printing, canvas, and metal printing.
- Want to sell your old camera and lenses? They buy used equipment and offer a great selection to purchase.
- Their goal is to offer the best possible service with the best possible prices so shop local! Shop with confidence as they have a 100% price guarantee with most of the online shopts
- Don't want to leave the house? Order online and enjoy free shipping on orders over $100.

Service Photo
Location: 3838 Falls Road, Baltimore, MD 21211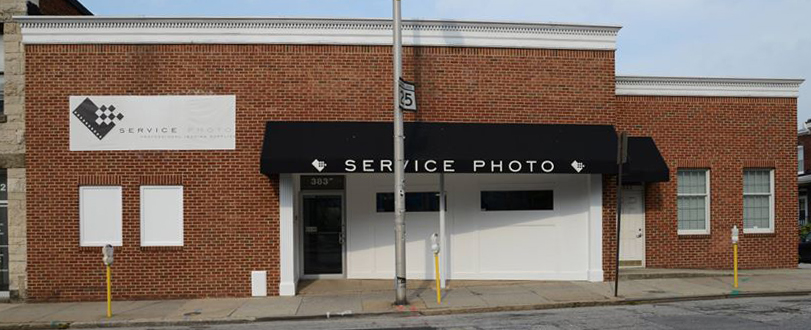 Phone: (410) 235-6200 (800) 344-3776 toll free orders
Hours: Mon-Fri 9am-5pm Sat 10am-3pm Sun Closed
Website:http://servicephoto.com/
What They Offer
Up in Baltimore, Service Photo offers new and used gear, Fuji, Nikon, & Canon and a little bit of Leica, and their inventory is HUGE with more in stock now than any time in their history! Their staff is very friendly and extremely knowledgeable.
They buy used gear and they pay top dollar for great stuff - especially when it is traded toward new gear. They offer high quality accessories, like Think Tank, Black Rapid and many others.
Service Photo is a destination and many photographers travel long distances to see them. Their goal is to make high quality items available to photographers everywhere. Although they have a large following, they enjoy meeting new customers, showing them who they are, what they do, and why they should consider Service Photo in the future. Don't want to leave the house?
Order online and enjoy free shipping on most camera and accessory orders.
A few more stores to shop local are listed below, all offer a wide selection of cameras, lenses and a full lineup of accessories not to mention services such as repair and image printing.
Ace Photo
In Ashburn, http://acephoto.net/
Dominion Camera
In Falls Church, sister store to Ace Photo. http://www.dominioncamera.com/
McClanahans
In Warrenton. http://mccamera.com/
ProPhoto
In DC on Pennsylvania Ave- seems to be mainly repairs. http://www.prophoto-dc.com/

RITZ CAMERA - UPDATE 2018 - This store has closed.
Location: 6917 Arlington Rd, Bethesda, MD 20814