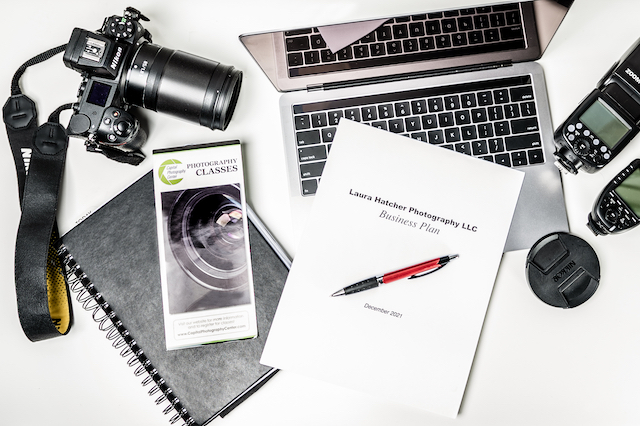 This class meets on Jan 26 and on Feb 2.

Join Laura Hatcher to learn how to lay a solid foundation and build an actionable plan towards legally making money with your camera.
This 2 session in-person class is designed to provide experienced photographers, who aspire to earn money from photography, with accurate and relevant resources, lessons learned, and advice on establishing a legitimate photography business.

Laura will give you insight to questions you may be asking yourself such as;
- Where do I start and am I ready
- What business structure is best for me?
- Do I need financing?
- Why do I need a business plan?
- Do I need a license?
- What kind of taxes should I expect?
From Laura's own experience she'll cover:
- Tools to run the business
- Marketing on Social Media Platforms
- Understanding your value
- Building a Brand
- Growing a client base
- Common mistakes to avoid as an entrepreneur
- Where to find support
- And more
When starting your own business, you don't know what you don't know and there many steps to complete before you can call yourself a legitimate business. This class will give you a sense of important questions to ask and how to prepare.
Questions can be directed to Marie Joabar at info@capitalphotographycenter.com
Class Limit: 10
Instructor: Laura Hatcher
Laura Hatcher is an award winning and published event, headshot and portrait photographer based in Alexandria, Virginia. She started her photographic journey while on active duty with the United States Navy. Laura, now a retired Naval Officer, opened a small studio in the heart of Old Town, Alexandria and is enjoying her second career as a full time photographer. She continues to serve the Veteran community with her headshot and military ceremony photography.
Laura's work has been featured in the Washington Post, Architectural Digest, Forbes Magazine, VIP Alexandria Magazine, and several college Alumni magazines. Her clients have included: The City of Alexandria, Visit Alexandria, The United States Naval Academy Alumni Association (her Alma Mater), The US Capitol Historical Society, and Texas A&M The Bush School of Government and Public Service. Laura's work can be seen at: www.laurahatcherphotography.com
Laura teaches the following classes for Capital Photography Center:
* How to be a Photography Business Owner
* The Professional Headshot Workflow