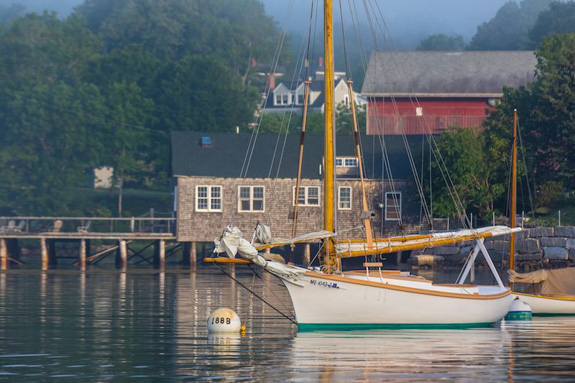 Join Instructors Emily Carter Mitchell and Marie Joabar in Maine and explore the beauty of Acadia National Park.
Our Photo Ops In The Acadia Area
The Acadia National Park area on Mount Desert Island, Maine is a photographer's paradise! Join us as we explore Bar Harbor and the best of Acadia including Cadillac Mountain, Jordan Pond, Sieur du Mont and Little Long Pond. Along Park Loop Road we'll visit Otter Cliffs, Sand Beach and Thunder Hole among other stops along the way. Discover the 'Quiet Side' of Acadia with us and capture classic harbor views in Southwest Harbor and Bass Harbor including Bass Harbor Lighthouse.
We've got an exciting itinerary planned to photograph some of the more iconic locations as well as some hidden gems. We'll be out shooting gorgeous sunrises and will also capture some colorful sunsets. Everyone will come away from this workshop with amazing images and wonderful memories.
Dates
- Wednesday, July 27 through Sunday, July 31, 2022
- The Workshop begins on Wednesday evening July 27 at 6pm. This will be an introduction and orientation session for the week.
- We will be shooting first thing Thursday morning and the workshop continues through early Sunday morning, July 31, for a full 3 1/2 days of shooting.
- There will be a little down time each afternoon when you can relax, take a nap, or explore the area around the Inn.
Instruction
- This workshop is specifically designed to maximize our time in the field photographing, learning in a hands-on, real world fashion. We will be identifying and solving photographic problems in the field as they come up.
- The group size is purposely being kept small at 8-10 students with 2 instructors so that everyone will be able to get questions answered and have time for one on one instruction.
Transportation
- Transportation to and from Maine is not included in the workshop fee and participants are responsible to get there on their own. If driving, it's about a 13 hour drive from the DC area. If flying, use Bangor Maine International Airport (about 1 hour 15 minutes away).
- There is a shuttle from the Airport to Bar Harbor where we will try to coordinate the timing so we can provide transportation to our lodgings.
- When the workshop is over on 7/31 we will provide a ride to the Bangor Airport at one specific time, most likely early afternoon.
- Transportation will be provided during the workshop. You do not need to have a car with you unless you want to explore on your own during any down time.
Fitness
In order to get the most out of this workshop, you should be in moderately fit condition and be able to hike on rocky terrain and scramble over some small boulders with your gear to get to the best vantage points for photographing. If you have questions or concerns about this please contact Marie Joabar and she can discuss with you.
- Meals other than breakfast at the Inn are not included in the fee. Plan to enjoy meals as a group at several restaurants in the area.
Accommodations
Included in the price is 4 nights lodging at a lovely bed and breakfast on Mount Desert Island. The Inn offers 11 beautiful guest rooms and suites and features a large deck, lovely gardens as well as views of lobster boats and sailing yachts. Included with our stay is an incredible breakfast daily.
Rooms are pre-reserved and assigned as first come, first served. Options include:
· a single cottage room with private bath
· shared cottage room with separate bedrooms and one bath
· or shared bedroom with a shared bath
The workshop cost is based on the accommodations you choose. We will try to meet everyone's needs but the type of room is limited so act quickly to secure your preference. See the Fee section below for pricing on each option.
Fees
A deposit of $500 deposit will hold your spot.
- The workshop fee is based on the accommodations you choose.
- The quantity of each room type is very limited and we cannot promise we can meet everyone's request although we'll try.
- The balance will be due by 4/25/22.
- All fees listed are per person.
$2135 - Accommodations are shared - 2 people, share bedroom, separate beds, share bath. Only 1 unit available of this type. This would be nice for 2 friends traveling together.
$2135 - Accommodations are for a couple (ie husband wife or partners) who are both participating in the workshop. Accommodations are not shared - single bedroom, share bed, private bath.
$2350 - Accommodations are shared - 2 people, separate bedrooms, share bath. Only 1 unit available of this type. If you choose this option, we will pair you with a roommate. We will only pair women with other women and men with other men.
$2650 - Accommodations are not shared - 1 person, single bedroom, private bath.
Questions can be directed to Marie Joabar at info@capitalphotographycenter.com
We're really looking forward to this workshop and hope you will join us there.
Limit: 8-10
Click here to view Images from participants from the 2019 Maine Photography Workshop
View images from participants from the 2021 Maine Photography Workshop