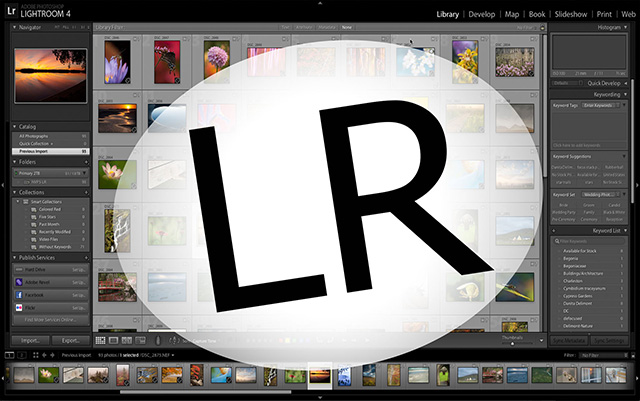 Learn Lightroom in a day! We'll look at the 2 most powerful modules, the Library and the Develop Modules.
Learn how to use Lightroom to be in control of your digital workflow. This class is designed to make Lightroom easy to understand and put you in control of all it has to offer. It will cover your workflow from beginning to end: from importing and organizing to adjusting, sharing and exporting your images. Find out how to choose which adjustments to make, and in what order. We will spend our time in the Library and Develop modules.
Following the class all attendees will receive an extensive pdf handout with 130 pages of Lightroom tips, tricks and screen shots. It'll be your post-class companion when you're back at home working in Lightroom.
Topics include:
Adding metadata and keywords
Organizational tools: flags, stars and labels
Sorting and filtering images
Using Collections and Smart Collections
Recovering highlight and shadow detail
Adjusting contrast, saturation and vibrance
Fine-tuning (or completely changing) the white balance
Applying adjustments selectively with the Adjustment Brush
Graduated and Radial Filters
Retouching tools
Using the tone curve and targeted color adjustments
Removing chromatic aberration
Noise reduction
Sharpening
Processing multiple files
Exporting images in other file formats
Note - At the class you'll bring your own laptop (desktops are fine too) loaded with LR 5, 6, or LR Classic. We will not cover the plain Lightroom version which is the mobile version. If you haven't already downloaded Lightroom go to the Adobe site and look for the $9.99 Photography Plan that gives you Lightroom Classic, Lightoom and Photoshop (make sure your plan includes the "Classic"). You can also download a fully functional 7 day free trial.
COVID Safety Practices: Masks are optional.
Questions can be directed to Marie Joabar at info@capitalphotographycenter.com.
Class Limit: 8
What People Are Saying About Corey
"Corey Hilz never disappoints! I have taken several classes and workshops with Corey and I always come away with more photographic knowledge and insight than before. Not only does he have great vision, he is also technically savvy, making him a guru in the field and in the classroom. Corey is patient with all of his students regardless of level, and he makes his explanations easily understandable. I can't recommend Corey enough if you are contemplating a workshop or class with him."
"Corey makes one feel confident. Yes, Corey truly is a gifted teacher, and he is able to clearly explain complex concepts to a complete novice."
"I've done enough photo workshops to know that some instructors are good in the field while others are good in the classroom. Corey is outstanding in both! In the field he has an uncanny ability to show up just when you need his help. His comments are always constructive and nonjudgmental. He lends his equipment freely (he got me hooked on Lensbaby) and encourages you to try new techniques. In the classroom, his teaching is methodical and logical. He shows you how to make the most of the digital darkroom with the software that you have (and then he shows you again using the software you wish you had). Corey is a natural teacher."
"I completed the Lightroom in a Day class with Corey Hilz today. This class far exceeded my expectations. I was admittedly skeptical of the long list of topics to be covered in one day but Corey is a gifted instructor and he presented a large amount of technically complex materials in a very easy to understand clear, concise, and coherent in manner."
Instructor: Corey Hilz
Corey Hilz is a professional photographer specializing in nature and travel photography. He finds the diversity in nature and cultures around the world offer boundless opportunities for new images. Corey approaches his subjects with an artistic eye, looking for a fresh perspective. He goes beyond the documentary image to show a unique perspective using color, shape and line. He strives to share the beauty of a destination you've never seen and provide a new perspective on a familiar subject. While Corey has collected diverse images from extensive travel, he also find some of the most interesting subjects close to home.
Corey is a published author and his work is seen in magazines, books, calendars and catalogs. His photographs are also seen in exhibits and his prints are found in private collections. Corey has written six books, including two books on digital workflow and the first book dedicated to Lensbaby.
Corey has a passion for sharing his knowledge and his instruction enables photographers to improve their photographs technically and artistically. He leads workshops to locations in the United States and abroad. More about Corey can be found on his website, www.coreyhilz.com
Corey teaches the following classes for Capital Photography Center.
* Lightroom In A Day
* Printing with Lightroom
* Editing With The Wacom Tablet
* Photoshop For Photographers
* External Flash Made Easy
* Advanced External Flash
* And Many Of The In-The-Field Shooting Classes