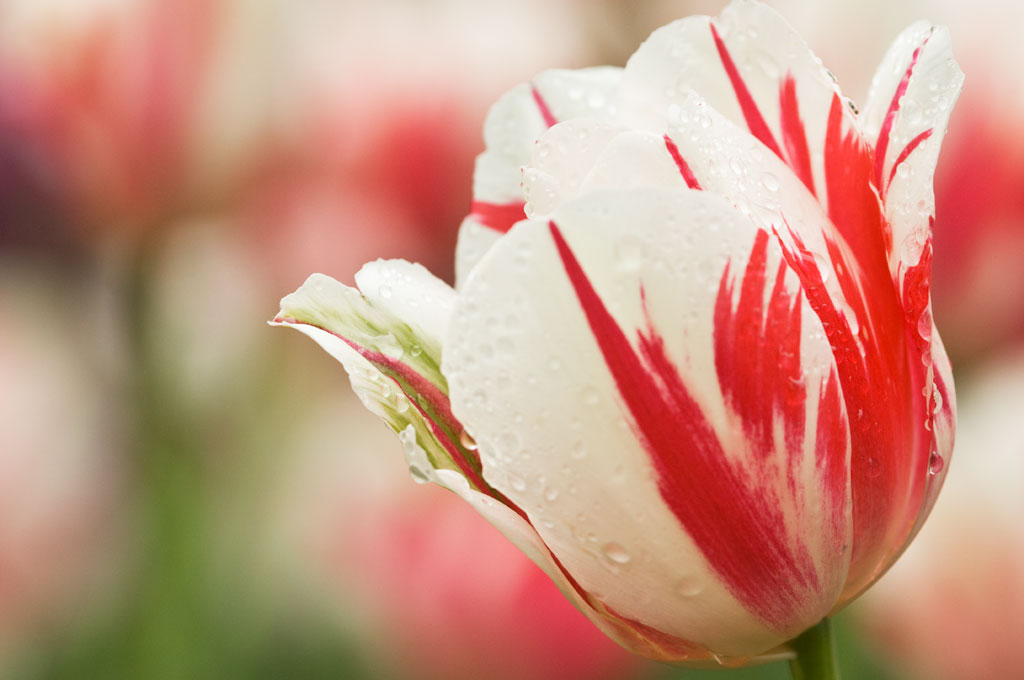 Join Karen Messick in Sherwood Gardens located in the distinctive neighborhood of Guilford for a morning capturing amazing images of spring tulips and flowering shrubs and trees.
Capture dew laden flowers in the early morning as the tulips unfold.
Learn how to use depth of field preview for compositional choices.
Learn how to make appropriate aperture, shutter speed,white balance and ISO choices for creative compositions.
Utilize the multiple exposure function on Nikon cameras.
Make artistic images using the swipe technique.
During the 1800s the property on which the Sherwood Gardens is located was part of the Guilford estate of A. S. Abell, founder of The Baltimore Sun.
Sherwood Gardens was created in the 1920's by John W. Sherwood, local petroleum pioneer and conservationist. Begun as a hobby, and planted by Mr. Sherwood with tulips that he imported from the Netherlands, the gardens have become known as the most famous tulip garden in North America. They cover Stratford Green, one of the original parks laid out by the Olmsted Brothers for the enjoyment of the residents of Guilford, and several adjacent building lots purchased by Mr. Sherwood. His own house adjoined the gardens at 204 East Highfield Road.
Approximately 80,000 tulip bulbs are planted annually along with other spring flowering bulbs.
Dogwoods, flowering cherries, wisteria and magnolias bloom throughout the garden.
One will also enjoy the brightly colored azaleas and old English boxwoods which were particular favorites of Mr. Sherwood.
Some of these plants date back as far as the 18th century, collected from gardens of Colonial estates in Southern Maryland. The garden has always been at its best toward the end of April and beginning of May. Adding to the beauty and uniqueness of the present day garden are the numerous varieties of rare trees that comprised another aspect of Mr. Sherwood's particular interests.
Suggested Equipment:
Digital DSLR
Tripod and cable release or remote
A zoom telephoto in the wide angle and mid range wouldbe helpful for general landscape images.
Macro lens or (diopters or extensions tubes if you own any)
Polarizing filters
A reflector
Water durable shoes( the grass can be very wet from dew in the morning)
A plastic trash bag for sitting or kneeling in the wet grass
A cushion or garden kneeling pads.
More information about the gardens can be found here. www.guilfordassociation.org/sherwood/
Class Limit: 10
What People Are Saying:
"I appreciate Karen's ability to tailor the information for the specific class audience and to work easily with multiple experience levels. She's also just 'good people.' Five stars!"
"Loved the workshop! Karen is a great teacher - knowledgeable, clear, organized, personable, helpful."
Instructor: Karen L. Messick
As the past president of the Baltimore Camera Club and an award-winning photographer, Karen has been capturing images for the last 20 years. Her creative sense of design, color, composition and placement of subject elements is striking. The patterns in her nature close-ups are refreshing and energizing.
Karen leads photo workshops throughout the United States and also lectures on composition, design and photographic principles in the greater Washington D.C. and Baltimore area. She has written instructional articles and had portfolio pieces published in Nature Photographer Magazine and is currently a field contributor for Nature Photographer Magazine.
She is exceptional with her skills with the iPhone and has given lectures and taught classes on iPhone Imaging for many organizations throughout the area. Her iPhone images have been published in iPhoneLife Magazine and are for sale by Aurora Stock Photography.
Her work can be seen on display in various galleries in Seattle, Baltimore, and on the Eastern Shore. Visit Karen's website and enjoy her blog at www.KarenLMessickPhotography.com.
Karen teaches the following classes Capital Photography Center:
HDR Photography
iPhone Photography
Historic Fells Point
Scenic Annapolis Harbor
Macro at Baltimore Conservatory
And many more