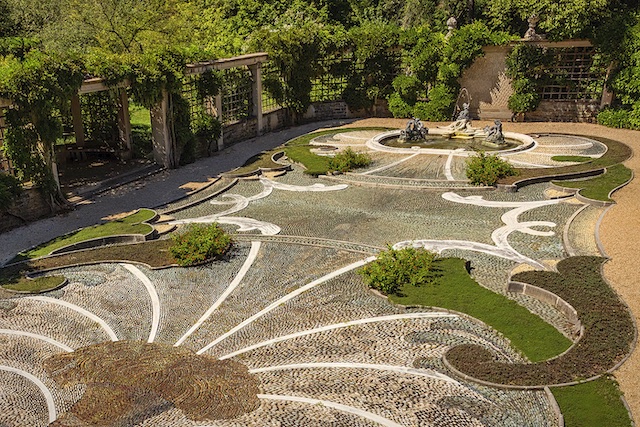 Join Judy Graham for an afternoon photographing the hidden gems and intimate scenes of the Dumbarton Oaks Gardens in the Georgetown neighborhood of Washington, DC. We will explore the sixteen acres of terraced gardens, fountains, vistas, orchards and kitchen gardens, and meadows and wooded pathways.
We'll explore the gardens concentrating on making dynamic images using the available light, selective depth of field, applying the rule of thirds, and looking for leading lines and elements which help guide the viewer's eye deeper into the image.
Recommended Equipment: A DSLR or mirrorless camera with interchangeable zoom lenses in the 16 – 200mm range. A circular polarizing filter if you have one for reducing glare and enhancing the sky. Tripods are not allowed in the gardens.
Participants should be familiar with their camera settings and with exposure controls such as ISO, Aperture, and Shutter.
Tickets to enter the Dumbarton Oaks Gardens must be purchased separately and in advance as there are no ticket sales at the gate. The cost is $9 (including fees). Details for tickets will be in your confirmation letter.
COVID-19 Safety Practices: The gardens require guests to follow current CDC guidelines regarding masks and social distancing.
Questions can be directed to Marie Joabar at info@capitalphotographycenter.com

Class Limit : 8
Instructor: Judy Graham
Judy Graham is an avid photographer whose focus is on creating stunning landscape images. Her journey into photography began after a trip to the Grand Canyon several years ago when the snapshots she took on her cheap point and shoot camera did not reflect the true beauty she witnessed. Today, Judy travels widely in pursuit of capturing award-winning photos, including ones of the Grand Canyon.
Judy is eager to share her excitement and knowledge of photography with others. Her goal is to help photo enthusiasts create dynamic photos using different camera settings and a variety of composition techniques.
Judy has enjoyed various roles in travel and photography including work for Overland Canyon Tours guiding photographers from all over the world in the famous slot canyons near Page, Arizona as well as to the well-known Wave in the Paria Canyon-Vermilion Cliffs Wilderness along the Utah border.
Originally from Bethesda, Maryland Judy currently lives in McLean, Virginia. She received her bachelor's degree in Business Management from the University of Maryland and spent her career in corporate America. Retirement now affords her the time to travel far and wide capturing amazing imagery.
Her work can be viewed on her website, JudySGrahamPhotography.